TOP ACTRESS MOSUN FILANI HOLDS SECRET WHITE WEDDING IN LAGOS.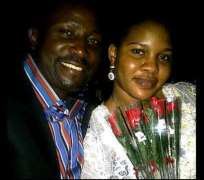 Barely 2 months and a half after top Yoruba actress,Mosun Filani had her traditional wedding ceremony in Ibadan,Oyo State,the beautiful Ekiti indigene had her white church wedding at Graceville Chapel,129,Awolowo Way,Ikeja,Lagos.
That was 2 Sundays back.At the event,with the way Mosun looked,she must have been pregnant.She was fuller and more chubby.
She finalized the marriage rite at the new generation church on Sunday 29th of April.
It was an unusual wedding ceremony conducted during normal church service.
There were no bridal train,no parents.It was during normal Sunday service.
The couple just came to the altar and signed the forms,after which they did their Thanksgiving.
Mosun wore a normal dress.
A little refreshment was served,while Rev. (Mrs.) Ogunnoiki blessed the union.
The light skinned beauty has been in an elated mood since she formally took her lover of many years,Kayode Oduoye,to her parents two and half months back,marking the 1st step of marital rites.
The Ibadan-based actress who is very popular in the industry has had a celebrated romance with Kayode,CEO,Shalom Kay Productions over the years,but both kept the hush hush romance under wrap even though it was said to have caused a lot of controversy for the actress,especially since the dark skinned guy already has 2 wives,some even say 3.
As a result of his marital status,no one ever imagined a marriage between the duo and that was why it took many by surprise on February 19th,2012 when the Lagos-based businessman and Chairman of Shalom Kay Group of Companies,took his close relatives,family members and friends to Mosun's family house in Ibandan,Oyo State to formally ask for her hand in marriage.
The low key Introduction and engagement which commenced at noon on Sunday was a very private one,it was held inside Mosun's family house sitting room at Alakia area on the outskirt of Ibadan.
Click the link below to go to...
Top Actress, Mosun Filani Chases Out Simeon Oduoye's Wife To Become Second Wife
TRAGEDY: Mosun Filani's Ex Lover Demands Withdrawal Of Car Gift** Gets House Gift From New Lover
TOP ACTRESS MOSUN FILANI MARRIES
MORE PICTURES FROM MOSUN FILANI'S ENGAGEMENT CEREMONY+ THE UNTOLD STORY
Funke Akindele, Femi Adebayo, Mosun Filani, Odunlade Adekola To Fight June 2
Ebube Is Looking For My Trouble**I Don't Know Why She Hates Me--Anita Joseph Fumes
More Pictures Of Top Celebrities At Stephanie Okereke's 'Fairy Tale' Wedding