HAWKES, ODEGBAMI, SLOW POISON, BOAMAH MOURN APPIAH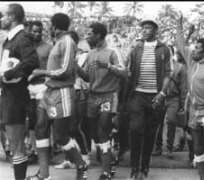 Former coach of IICC Shooting Stars of Ibadan from 1974-79, Mr Alan Hawkes and some members of the 1976 squad that won the first continental trophy for Nigeria, have reacted to the death of the team's former player, Mr Joseph Appiah, who died in a private hospital on Saturday morning in Ibadan.
In an e-mail sent yesterday to Daily Sunsports, the President and Artistic Director of Reality Broadcasrting Nework and author of the Golden Book of Shooting Stars, Mr Alan Hawkes, described Appiah as a very quiet, but reliable full back.
'He was always prepared to make runs into the opponents' area and was an intelligent marker in the defence. He was selected in all my squad and he was always ready to do what he was instructed to do.
'I remember that there were four of them who were Ghanaians in the team, Philip Boamah (Cassy) was the outside right and a good runner with the ball, who was very reliable in getting crosses over into the penalty area and equally reliable in getting back to help the defenders when need be. Sam Ashante was very good in the air for a centre back and reliable in his job.
He was always in the right place at the right time, which is essential for a player in his position.'Ashante was very strong in the tackle, but inclined sometimes of allowing opponents to get behind him, where he could not see them. He was another quiet player, who listened to instructions.'Sam Saka was an unusually short man for a centre half, but very competitive in the air and also on the ground. He was tough and an asset to any team. I never remembered him getting injured, but like Ashante, he would let players get into positions behind him where he was unable to see them.
'I once asked him after a training session to walk to his house and to keep looking over his shoulder every five yards to see if anyone was behind him. He obeyed that instruction to the letter.'But Joe Appiah would be selected to play in any of my teams and he always did as he was told, which some players are not very good at.
'I really don't know what is happening to Nigerian football currently, but I think we should learn to take care of our heroes while they are still alive. Imagine how shocked I was when I learnt of the death of my goalkeeper in 2009, The Best Ogedegbe. I was scared stiff when I learnt that my captain, Sam Ojebode was critically ill too and he has no one to take care of him until the state government came to his rescue.
'When I learnt about Joe Appiah's ill health, I thought within myself that someone should at least organise a friendly football match to raise some funds for him and for other living legends of Shooting Stars, until Ayo later told me that the Oyo State government had finally came to his rescue by donating half a million naira for his up keep,' Coach Hawkes said.
Segun Odegbami did not have a word to describe the death of Appiah, his former teammate from 1974 when he learnt about his death for the first time in a telephone chat yesterday.'Ayo, what is this you are talking about…. What is this, oh my God! This is double tragedy,Odegbami cried out. 'I think I have to make few phone calls, but for now, I'm shocked and short of word if what you are saying is the truth. But definitely, this is a double tragedy.'
'Philip Boamah, the current coach of Gateway FC of Abeokuta, was apparently in a mourning mood judging from the tone of his voice during a telephone conversation yesterday morning.
'Yes Ayo, my brother is dead. I learnt he finally gave up the ghost (yesterday) morning.'We came together to Nigeria in 1971, Sam Saka Aboseh, Sama Ashanti and I travelled together to Nigeria and played for Shooting Stars. Appiah was a Ghanaian with Nigerian and Shooting Stars blood flowing in his vein. He was very faithful to the club till he retired and joined the team's technical crew. 'I notified his families in Ghana immediately I heard the news and I will keep you posted about their plans,' he promised.
Another prominent member of the 1976 IICC Shooting winning squad, who was partnered Appiah in the defence, Mr Idowu Otubusin, popularly called 'Slow Poison', said the death of Appiah was a great loss to Nigeria and African football. 'Joe Appiah and I were together in Lagos in the 1970′s, although we played for different clubs at that time. I was with Niger Post, while he, Sama Saka, Sam Ashanti and Philip Boamah played for Brighton FC, which was owned by Brighton Food. The four of them came en-masse to Shooting Stars in 1972, while I joined them in 1974.
'Appiah contributed a lot to the success of Shooting Stars in 1976, as he was a regular player for the team playing from the right full back.'He retired from active football beween 1982 and 1983 and he never stopped supporting the course of Shooting Stars, as he became a member of the technical crew. He was one of my assistants in the feeder team of Shooting Stars when I was the chief coach.
'Joe contributed a lot to the development of Nigerian youth and should be appreciated the more even in death. He was a good friend and a partner. May his soul rest in peace.