Arsenal Sign Germany Striker Podolski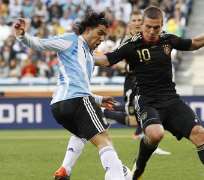 **FC Cologne star will move to Gunners on a long-term deal this summer
Arsenal have announced the signing of Germany international Lukas Podolski on a long-term deal.
The Polish-born striker, who has scored 43 goals in 95 international appearances for Germany, will arrive in the summer from Bundesliga side FC Cologne.
Podolski, 26, has been in fine form this season, scoring 18 times in 28 appearances in the German top division.
The former Bayern Munich forward has played for Germany at the last two World Cup Finals as well as the European Championships in 2004 and 2008.
He scored one of the German goals in their 4-1 win over England at the 2010 World Cup Finals in South Africa.
"We are delighted to secure the deal for Lukas and see him as an important part of our future," said Arsenal manager Arsene Wenger.
"He is a top-class player, a very good finisher and a proven performer at club and international level. He is a very strong player and will provide us with good attacking options.
"We are looking forward to watching Lukas contribute at the European Championship over the summer, a level where he has already made 95 caps at the age of 26. That is a phenomenal record and just shows his quality as a player."
Podolski added: "I'm so happy to be joining Arsenal and to play in the Premier League. Arsenal is one of the top clubs in Europe with a huge history.
"There are many top quality players at Arsenal and the style of football which the team plays is fantastic. I'm proud to become an Arsenal player and am looking forward to playing my first match at Emirates Stadium and doing my best for all the Arsenal fans."
PREMIERLEAGUE.COM