Stock Index Futures Signal Steady Open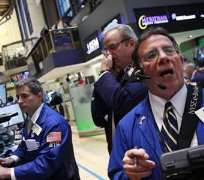 Stock index futures pointed to a steady open on Wall Street on Monday, with futures for the Nasdaq 100, the S&P 500 and the Dow Jones staying flat.
The Commerce Department releases March personal income and consumption data at 1230 GMT. Economists expect a 0.3 percent rise in income and a 0.4 percent increase in spending. In February, income rose 0.2 percent and spending was up 0.8 percent.
NYSE Euronext (NYX.N) said its profits fell by almost a third in the first quarter due to a difficult trading environment and costs from its failed merger with Deutsche Boerse (DB1Gn.DE).
Other companies announcing results on Monday included Anadarko Petroleum (APC.N) and Humana Inc (HUM.N).
The United States faces a tense week in China as high-level talks on trade and global hot spots like Iran and North Korea open in the shadow of a blind Chinese activist's bold escape from house arrest to seek U.S. protection in Beijing.
Goldman Sachs' Jim O'Neill has been approached by Britain's finance ministry as a possible candidate to be the next governor of the Bank of England, the Sunday Times reported.
Federal Reserve Bank of Chicago releases its Chicago Fed Midwest Manufacturing Index for March at 1230 GMT. The index read 91.7 in the prior month.
The Dow Jones Industrial Average .DJI stock index is due for an overhaul, and new-tech giants like Apple Inc (AAPL.O) and Google (GOOG.O) have good arguments for joining the elite 30 companies at the expense of old-industry stalwarts like Alcoa Inc (AA.N), Barron's said on Sunday.
The Institute of Supply Management Chicago releases its April index of manufacturing activity at 1345 GMT. Economists forecast a reading of 61.0, compared with 62.2 in March.
The Commerce Department issues annual benchmark revisions to retail sales at 1400 GMT. In March, retail sales rose 0.8 percent and excluding automobiles, sale were also up 0.8 percent.
GlaxoSmithKline's (GSK.L) $2.6 billion offer for Human Genome Sciences (HGSI.O) undervalues the biotech company, according to Taube Hodson Stonex, a leading investor in the U.S. group.
China Eastern Airlines Corp Ltd (0670.HK) said on Monday it has agreed to buy 20 new Boeing B777-300ER aircraft from Boeing Co (BA.N), valued at $5.94 billion based on the 2011 price catalog.
Pall Corp (PLL.N) said on Sunday it agreed to sell some of its blood collection, filtration and processing product lines to Haemonetics Corp (HAE.N) for about $550 million.
Warner Chilcott (WCRX.O) is evaluating options, including a possible sale of the company, after receiving interest from strategic and private-equity buyers, Bloomberg News reported on Monday.
San Francisco Federal Reserve President John Williams is more optimistic about the U.S. economy now than he was three months ago and does not see the need for further monetary measures at the moment, he was quoted on Monday as saying.
Fiscal austerity and tough labor reforms have failed to create jobs, leading to an "alarming" situation in the global employment market that shows no sign of recovering, the International Labour Organization said on Sunday.
European stocks fell 0.1 percent on Monday, led lower by chemical shares after the sector's strong gains in the previous session.
U.S. stocks advanced on Friday and posted their best weekly gains in a month as stronger-than-expected earnings from Amazon.com (AMZN.O) and Expedia Inc (EXPE.O) reinforced confidence in corporate performance.
The Dow Jones industrial average .DJI rose 23.69 points, or 0.18 percent, at 13,228.31. The Standard & Poor's 500 Index .SPX gained 3.38 points, or 0.24 percent, at 1,403.36. The Nasdaq Composite Index .IXIC was up 18.59 points, or 0.61 percent, at 3,069.20.
REUTERS