HOPES RISE FOR NIGERIA AT PEN RELAYS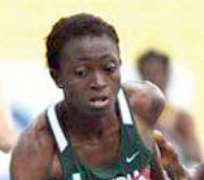 By Onochie Anibeze in USA
Few days after Innocent Egbunike predicted that 400m runner Bukola  Abogunloko had the potential to make impact at the Olympics, she won her event at the Mt Sac Relays in Carlifornia with a time of 51.83 seconds, a time one may describe as low to be within the medal range at the Olympics but which can be improved upon with time.
She has great potential. It was her Personal Best. Egbunike is working on her and there's hope going by the intensive training the Nigerian team is undertaking here in Atlanta.
Abogunloko Bukola
Only the local athletes are training in Atlanta at the moment but they will later be joined by others who are now variously training with their coaches.
It is part of the programme President of Athletics Federation, Solomon Ogba, has mapped out for his Olympic team. AFN is about the only federation yet to receive money from the National Sports Commission but that would not stop Ogba from his plan especially as the NSC is also starved of funds to pursue Olympic programmes.
After the Mt Sac Relays last week, the Pen relays begin this weekend in Philadelphia where Egbunike will, again, lead the Nigerian team in one of the biggest athletic meets in the world in attempts to garner more points for Olympic qualification.
'We did well at Mt Sac Relays but we did not compete in the relays because of injuries that depleted the team. But in Philadelphia more athletes would have joined the team and we may run the relays,' Ogba said before leaving the US for Egypt for a CAF meeting. He  is likely to return return before Nigerian athletes compete on Saturday.
In California, Blessing Okagbore ran 22.70 seconds to place second in the 200m. It was a good race that is capable of improving her endurance for the 100m if she is consistent and improves on it which is most likely as the days to London draw close. Agnes Osazuwa returned 11.34 seconds in the 100m for women. For the men, Peter Emelieze ran a wind assisted 10.08 and Egwe Ogho ran 10.13 secs. Obinna Metu ran 20.84 in the 200m.
'It's been a long time that Nigerian athletes got so listed in the Mt Sac Relays,' Gloria Obajime said in a congratulatory message to Chief Ogba. In the 80s athletes like Daniel Ogidi won events in the Pen Relays and even broke national records. After then the drop began to set in. Ogba is pulling strings now on a revival mission.
'We hope to do more by the grace of God,' Ogba said.
The athletes were going through some physiotherapy yesterday preparatory for their flight to Philadelphia today.