Senate Committee Directs Total To Contain Leakage On Obite Gas Plant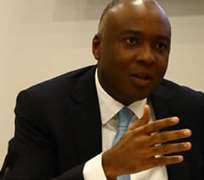 SAN FRANCISCO, April 17, (THEWILL) – The Senate Committee on Environment and Ecology has charged oil giant Total to contain the gas leakage at its Obite Gas Plant in Ogba/Ndoni/Egbema Local Government of Rivers State.
Total Exploration and Production Nigeria Limited (TEPNL) is the operator of OML 58, a joint venture between the French company and the NNPC. Total said it received an alert concerning the gas leakage on April 3, 2012 and has shutdown the plant and wells.
But the Senate Committee in a statement yesterday said it had received several complaints from oil and gas communities in the area on the incident, which is the second within four weeks.
The statement signed by the Chairman, Senate Committee on Environment and Ecology, Senator Bukola A. Saraki said, "The complaints so far received by the committee on this incidence suggest that this latest gas eruption has devastated farmlands, forests, wetlands and other vital economic and environmental resources of the communities in the area. We call on all government agencies charged with the responsibility of protecting the environment to immediately swing into action to address this ugly situation and restore the livelihood of the impacted communities. We also call on Total Exploration and Production Nigeria Ltd, to take adequate and necessary steps to contain this situation, decontaminate the impacted area and ameliorate the hardship this incident may have posed to these communities.
"The Senate Committee on Environment has a mandate to ensure that environmental governance in this country is adequate and respected in order to give our people a livable environment and that those whose actions and conducts impact or degrade the environment take full responsibility for their actions. In this regards the committee will be liaising with relevant agencies of government to ensure that the impacted areas and their communities' environments are restored back to status quo ante.
"This latest incident brings once again to the fore, the issue of inadequate regulatory mechanism to ensure environmental safety and control of the activities of oil and gas exploration companies in Nigeria. This Committee will no longer tolerate a situation where our collective environment is flagrantly abused, polluted and degraded by all manner of commercial activities. We are working with our colleagues in the National Assembly and relevant stakeholders to develop further the legal, regulatory and institutional framework necessary to deal with these issues holistically and in a way that will make it uneconomical for those whose activities impact on the environment to wantonly degrade it. It is time to begin to firmly deal with this situation in a way that shows that we mean business in this country. It will no longer be more economical to blatantly abuse the environment.

"Once again, we appeal to the relevant agencies of government to respond immediately to this hazard. We expect a thorough assessment of the incident, both in terms of damage, impact on environment, community livelihood and the level of responsibility established. We shall soon invite Total Exploration and Production Nigeria Limited (TEPNL) to explain to us what lead to this incidence and its plan of action and implementation strategy to restore back the environment and compensate those whose lives and livelihoods it has impacted upon as a result of this latest incidence.
"We will continue to monitor closely this incident as part of our oversight function and will take every necessary step to ensure that justice is done."