Senate Demands BASA Review With Great Britain As BA Defends Fare Pricing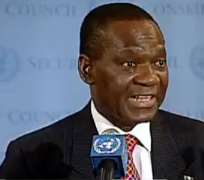 .... Foreign Minister Cautions On Diplomatic Row.
ABUJA, April 16, (THEWILL) - The Senate through its Committee on Aviation on Monday moved for an immediate review of the Bilateral Air Services Agreement (BASA) between Nigeria and the Great Britain.
But an adamant British Airways pointedly told the Senate committee that its pricing policy is determined by forces of demand and supply and asked Nigeria to open up her airspace and make it more competitive.
BA's position followed the subtle indictment of the Federal Aviation Authority of Nigeria (FAAN), Nigeria Civil Aviation Authority (NCAA) and other aviation regulatory agencies over the airfare disparity by Minister of Foreign Affairs, Ambassador Gbenga Ashiru.
Also Ashiru cautioned the lawmakers to avoid any act that could degenerate into a diplomatic row, adding that the issue under question should be strictly handled commercially.
At the three-day public hearing, the foreign minister said that the actions of the airlines should be blamed on the failure of the regulatory authority to do its job.
Although he admitted that there was no justification for fare disparity, he however insisted that the inquiry should be treated as strictly commercial between Nigeria and a foreign airline.
"It should not create furor between their host country and Nigeria.
"We in government don't want this exercise to degenerate into a diplomatic row that will warrant you to invite me back here. I believe that my coming here at this time may not be desirable because most of the issue being tackle is within the purview of Aviation ministry," the Foreign Minister stated.
The panel's position on BASA which formed the high point of the first day of the public hearing on violation of Aviation Laws and Practice by Foreign Airlines in Nigeria was propelled by the revelations made by the Director General of NCAA, Dr Harold Demuren.
He told the Senate panel that Nigeria and Britain are supposed to have 21 flight frequencies apiece, but that while Britain, through British Airways and Virgin Atlantic enjoys its slot, Nigeria has been restricted to only seven slots, which is used by Arik Air.
Describing the situation as unfair, chairman of the Committee, Senator Hope Uzodinma nonetheless hailed the Aviation minister for initiating the review.
Dr Demuren, also berated the operations of the foreign Airlines and described it as exploitative, adding that in 2006 alone, the BA made a profit of 451million pounds out of which 112m pounds was generated from Nigeria alone.
The British Airways team however mounted a spirited defence of its fare pricing policy, saying its fares are influenced by known economic indexes of demand and supply, with Country Representative, Mr. Kolawole Olayinka, adding that it is unfortunate to discuss profitability of airlines before the world.
The Country Representative said, "You did not actually tell us which laws were violated. As a Nigerian I will always wish prices could come down. We only need to do one thing. Prices are determined by the forces of demand and supply. Let more airlines come in. Let more airlines fly into Nigeria many more times. Our skies are closed. Open up the skies and let more airlines come in. Prices will tumble tomorrow if we increase supply.
"Every airline in the world charge passengers fuel surcharge. It is not a hidden charge it is meant for airlines to recoup ever rising aviation fuel…. Blame the law," he said.
On the significant price differential between premium class fares on the Accra to London route, and the Lagos to London route, BA blamed it on operating environment and demand.
Earlier, the Deputy President of the Senate, Ike Ekweremadu advised President Goodluck Jonathan to re-launch Nigeria's defunct flagship carrier, Nigeria Airways before 2012.
He said doing this would restore the country's national pride noting that if smaller countries such as South Africa, Ethiopia and Kenya could have national carrier hoisting their flags, Nigeria should not be left behind.
"Let the President bring back the Nigeria Airways as a parting gift to Nigeria in 2015. We feel embarrassed when we travel abroad and see others carrying their national flag. It should be a thing of national pride to bring back our national carrier", he said.