PENSION: LAGOS REMITS N7BN INTO RSA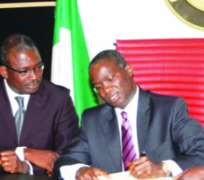 Despite the current criticism trailing pension administration in the country, as a result of sharp and fraudulent practices that have characterized its operations lately, the Lagos State Pension Commission (LASPEC) says it has so far disbursed Retirement Bond Certificates worth N7,544,922,856.70 into the Retirement Savings Account (RSA).
This was stated by the Director General of LASPEC, Mr. Rotimi Adekunle Hussain, when the students of Senior Executive Management Course 14, 2012, of the Nigerian Army School of Medical Sciences, Ojo, Lagos, paid a familiarization visit to the commission.
Hussain explained that since inception of the Contributory Pension Scheme (CPS) in April, 2007, Governor Babatunde Raji Fashola had shown commitment to the welfare of workers in the Lagos State Public Service by ensuring that the state's 7.5 per cent and the Staff's 7.5 per cent contribution are remitted into the RSA of each employee as at when due.
The LASPEC boss argued that, with the commitment and absolute support of Governor Fashola to the scheme, Lagos State had blazed the trail in pension administration in the entire country, saying the welfare of retirees and workers in the State Public Service is highly germane and paramount to the Governor.
Hussain, who lauded the participants for considering LASPEC as one of the organizations selected for the familiarization visit, said that the Contributory Pension Scheme was aimed at providing a befitting retirement life for retirees who have served the State Government for the better part of their life.
Reacting to the issue of fraud that has pervaded the old Pay-As-You-Go Scheme in the country where old pensioners are subjected to untold hardship, Hussain insisted that, the CPS is a clear departure from the Pay-As-Go.
He described the CPS as the best and sustainable scheme whose operation is guided by the Pension Reform Act 2004 and does not give room for any fraudulent activities, adding that workers' contributions are kept with the Pension Fund Custodians who are also guided by the laws.
Earlier in his address, the leader of the team who is also the Director of Studies of the Nigerian Army School of Medical Sciences, Col. Michael Adegbesan, said that the students among whom are Doctors, Pharmacists and Dentists are on a managerial course for middle level officers and were in LASPEC to under-study the transition from the old Pay-As-Go to the new Contributory Pension Scheme, with a view to understanding the benefits and operation of the scheme.
While acknowledging that the team had benefitted immensely from the quality education they got about the scheme, he commended the Commission for its effort in providing better life in retirement for the employees of the state.