Mariam - A Top Model In The Making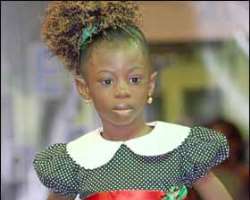 Little Mariam CANDIDLY GHANA cannot boast of top-notch super models, perhaps because modeling was hitherto not considered a lucrative business in the country.
Obviously, it is not common finding big names associated with the modeling industry in Ghana as it is with the music and arts industry, and in sports and politics. The industry also lacks publicity from the Ghanaian media, compared to what pertains in the outside world.
However the trend seems to have changed. This is due to the introduction of such modeling outfits as the Exopa Modeling Agency to train models. Now, more models are emerging and some have proven to be super models in the making, who can in no time rub shoulders with those on the international scene.
Little Mariam Lamptey is one of such promising models. Even though she is only 5 years old, observing her closely on the runway during one of Exopa's fashion weekend programmes and a rehearsal session last Saturday, there was enough hope that she had got great potentials to make it in modeling in Ghana and beyond in the coming years.
She struts with confidence and high self-esteem like her adult counterparts; her catwalk intriguing to watch. She is also quick at learning moves shown her by her directors.
Mariam is born to Mr. Nicholas Lamptey and Ruby Lamptey who both hail from Labadi. She is a class one pupil of the Christian Seed School in Labadi. Her favourite subject in school is Mathematics. According to Mariam's dad she was introduced to modeling by a friend who made her join Exopa and since then the kid has developed passion for modeling.
Mariam herself told Beatwaves that she is always happy when modeling and wanted to become a top model one day. She's been modeling for the past one-and-a-half years after joining Exopa.
By Francis Addo