WE'LL CASH IN ON ORJI'S NON-PERFORMANCE, SAYS IKONNE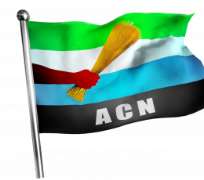 Action Congress of Nigeria (ACN) Governorship Candidate in 2011 elections in Abia State, Prince Paul Ikonne has said that the non-performance of governor, Theodore Orji is making things very easy for his party to strategize and mobilize Abians in preparation to take over power from Peoples Democratic Party (PDP) led Government in Abia state in 2015.
He said that his party is not surprised that the Governor is not performing as they are already aware that he would not perform.
Ikonne who spoke to Daily Sun in his Country home in Aba said that his party has held series of meetings at local, state and federal levels to ensure that wrongs being meted out to some states are corrected.
Reacting on Ikonne's criticism of Orji's Government, the Chief Press Secretary to the Governor, Mr Ugochukwu Emezue said that he had expected Ikonne to keep quiet and lick the wounds of his defeat.
'I had considered him a good politician, having refused to go to court like others who went to disgrace themselves. Coming out now to say that he is not seeing what the Governor is doing makes me to look at him from a derogatory point of view. If he has not seen what the Governor is doing, his father, the Eze has seen a lot of it, and has congratulated the Governor on one or two occasions. That shows that the Government is not doing badly', Emezue said. Ikonne, who spoke earlier called on Abians not to be deceived by what he described as the 'magic' of the Government, advising people to be patient, as ACN would soon come to their rescue.
'I am calling on Abians to be patient and that only a party like ACN can rescue them from the clutches of this administration. This is an administration that does not offer hope to Abia people. The only thing we are saying is that evil can only reign for a period and must evaporate one day. We are going to cash in on their non-performance. We knew that he would not do well, and we are not surprised that he is not doing well. We are mobilizing our people and the present Government is making it easier for us through their non-performance as we have discovered that they are in a confused state. We are in the grass roots working very hard', Ikonne said.
I want to thank the people of Aba in the way they expressed their minds at the stadium during Ojukwu's burial ceremony in the state. This shows that the Government is not a democratic. It is a Government of the friends and relations of gov Orji. The action at the stadium shows non acceptance. That shows how unpopular the Government is', Ikonne said.
If the Governor is confused, he should resign.
The first tenure was full of excuses and now they are also giving excuses. Go to all the neighboring states and see what the Governors are doing there. It is not all about the party you belong, it is all the about performance. Any Government that performs is applauded by the governed and the one that does not perform should expect criticism. But any government which does not perform and yet does not want to be criticized is demonic, because it is only through criticisms that a leader would know where he is not doing well and correct it. But here, little criticism raise their blood pressure and they would start looking for enemies where there are none.
If they are human, they should know that those who are not telling them the truth are their real enemies and not people who call their attention to the realities on the ground. The Governor should know that his true enemies are all those who are surrounding him , blocking him from knowing the truth about his government. Those who block him from going right when he is supposed to go right. They are his real enemies and not the masses. When a leader closes his ears to the yearnings of his people, then he is in for a lot of surprise.
They are giving the Governor the impression that the people are insatiable, what and what has he put on the ground that the people should go hysterical with joy? Why did Aba not boo Mbakwe during his time, why did they not boo Orji Uzor Kalu whom he said was holding him in bondage? All these go to show that he was responsible for what ever feat Orji Uzor Kalu did not perform in Abia during his tenure because he was the Chief of staff. Why are Imolites not booing Okorocha for doing well?
He should look back and see that the only thing the people are looking for is dividends of democracy. If he performs today, they will applaud him. That is Aba people for you. If in 20 years time, Orji Uzor Kalu steps his feet in Aba soil, they will remove their cap for him. Why? Because he left a foot print in the sands of time in the area of road construction. The remaining roads that are used by Aba people today were done by his administration.
Today, what the Governor does is to move about with rented crowd , who counters the boo against him any place he goes to. And these agberos are paid N5,000 per trip. The money he should have used to work for Abians is reserved to pay those who follow him about. He now moves with nothing less than 30 to 40 Hummer buses to counter booing.
What a wonderful government!
He said that when one hates and antagonizes those who criticize him, it means that the person does not want to do well. He has already made up his mind to deceive the people. 'In his choice of appointments, he has never made any credible appointment. I call on President Goodluck Jonathan to come to the assistance of Abians because the Governor may through his influence realize himself. I want the president to pay an unscheduled visit to Abia and see things for himself.
The Governor here is churning out policies that are unpopular, policies that are affecting Abians and residents of Abia. The sacking of his cabinet members may not be the solution to his problems. Where there is no vision, the people perish. He has no vision and focus,' Ikonne said