Ogoni Communities File N121b Compensation Suit Against Shell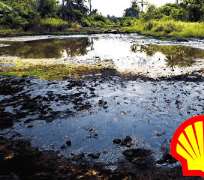 PORT HARCOURT, April 03, (THEWILL) - Four Ogoni communities and six families affected by a 2009 hydrocarbon fire and spillage caused by a Shell manifold facility in Kegbara Dere community in Shell's Bomu Oil Field have dragged the oil corporation before Justice Tijanni Abubakar of the Federal High Court II sitting in Port Harcourt, Rivers State.
In the suit (FHC/PH/CS/133/2012 - FHC/PH/CS/142/2012), which will be heard from May 10, 2012, the plaintiffs are seeking a compensation of N121, 703, 992, 208.00 for severe damages of the disaster on them and on the local populations.
The communities — Kegbara Dere, Kpor, Biara and Deken — are claiming damages worth N88, 400,188, 208.00, while the families — Gberebeedom, Keenom, Dugbor, Keregbor, Biradee and Nkoo/Gbienga Nbe — are claiming N33, 303, 804, 000.00.
According to Bari-ara Kpalap, the spokesperson of a faction of the Movement for the Survival of the Ogoni People (MOSOP), the claims are for "general damages (health issues and death of community and family members); loss of farming rights, shrines and sacred places; air pollution; and loss of fishing rights, ponds, economic trees, cash crops, land, swamps and creeks."
The litigants also prayed the court to grant them a declaration that would guarantee a general satisfactory environment favourable enough to enhance their development, restore their normal health development and existence, and provide alternative source of drinking water.
Other prayers were that the court should compel Shell to relocate the Bomu manifold and pipelines to another location far-flung from their houses; and order it to contract a competent and reputable expert to properly clean up the environment using acceptable standards in conformity with recommendations of the United Nations Environmental Programme (UNEP).
Alternatively, in case Shell fails to clean up, the plaintiffs are demanding that the court should order it to pay the sum of N1.5 billion as cost of a standard clean-up.
Situated in Kegbara Dere and owned and operated by Shell, the Bomu manifold was engulfed by an inferno on April 12, 2009 due to oil leaks from one of the valves of the facility, which had lasted nearly three months without appropriate response from the company.