EX-OLYMPIAN, OKORODUDU, RAISES ALARM…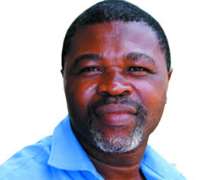 Barely a few months to the kick-off of the 2012 London Olympic Games, ex-Olympian, Jeremiah Okorodudu, has raised alarm over the poor standard of the Nigerian boxers preparing for the Games. Okorodudu is afraid that the country may end up not winning any medal in the boxing event when the hostilities commence on July 27 in London. According to him, Nigeria's participation may lead to another jamboree, while considering the caliber of boxers the country will parade against the best of other countries.
Okorodudu said that the boxers may qualify for the Olympics but said they are going to witness something worst than what they recorded at the last Beijing Olympics where the pugilists were given the beaten of their lives.
'Just as the holy book said that it would be easier for a carmel to pass through the eye of a needle than for a rich man to enter into heaven, so would it be difficult for Nigerian boxers to go to the Queen's land and pick a medal of any colour because we don't have the boxers, yes they may qualify, but they lack the prowess to churn in positive results. Aside that, they are going to the Arab country about five of them for the qualifiers, I would have expected the Association to take along with them a full team to give them more chances of getting six or four slots, but they have taken only five to Morocco, where Tunisia, South Africa and Egypt would also be contesting for the slot. It would be difficult for Nigeria to get all the slots, at worse they would only get about two .
Nothing in life is got on a platter of gold. If you want to do well, you must work for it, imagine there is a World champion going on in Cuba, but none of our boxers is there and you want me to believe they are going to win a medal in Olympics. It is not possible. Countries who know what they are doing have for long been preparing for the event, while we are sleeping here. Year after year, we keep absenting ourselves in the World's meets where the whole World has gathered and we think we can go to the Olympics and defeat them, it is impossible. I would be surprise if the boxers win any medal in the Olympics, because they did not work for it and we are lacking in fire brand boxers .For boxing to be revive in Nigeria, we have to take a holistic approach and a drastic measure otherwise we will keep crawling.
There is a need to introduce competition. Let every kobo raised for the competition be judicially used. There is a need to gather all the ex-international boxers to give their contribution towards the development of the game, and join hands to train the boxers. For two months now, the boxers have been in Benin boxing themselves. No competition is being organised for them, no challenges to spur them on. Tell me, how can boxing go back to its former glory when we are getting almost everything wrong administratively. To move forward, something drastic must be done or we will witness a development worse than what we saw in the Beijing Olympics.