24-HOUR PORT OPERATIONS: THE MYTHS, REALITIES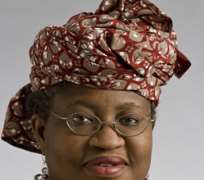 • Okonjo-Iweala
More than five months since the Coordinating Minister of the Economy and Minister of Finance, Dr. Ngozi Okonjo-Iweala, conveyed the Presidential mandate to concerned authorities on why the ports must begin a 24-hour operation, response to the order still remain in the breach in some of the ports.
Analysts believe that getting the ports to work 24 hours goes beyond a presidential mandate when, in fact, the supporting structures are not in place. Some stakeholders who spoke to Daily Sun argue that the order by the President is timely but does not sound believable when one looks at the fact that the security situation does not encourage the movement of container-laden trucks at night.
Analysts say that both the President and the visiting team to the ports, led by Okonjo-Iweala, know very well that the Nigerian environment will truncate the full compliance to that mandate, since no importer would want to lose his cargo to hoodlums on the roads at night. Besides, they said the banks, which are necessary support structure, do not operate late nights, or on weekends.
They argue that the roads are hardly lit at night; that they are death traps, while the police hardly patrol at night and, even when they do, they don't cover all the areas and so the roads are unprotected; they contend that the roads are in bad shape and for many trucks to exit the ports and venture into such voyage at night with the peculiar nature of the roads may be too dangerous to conjecture.
The Genesis
The Federal Government recently mandated all the agencies driving port operations, including the Nigeria Customs Service (NCS) to commence 24 hours service, seven days a week, at the nation's ports.
Okonjo-Iweala, who disclosed this on a facility visit to Lagos ports in October, last year, with the Economic Team and the Presidential Committee on Port Reforms, said that in line with the port reform process, the new strategy was aimed at reducing the cost of doing business at the ports.
She said the Customs and all other operators that now work from 9am to 5pm would start working round the clock, so that Nigerian ports could operate like ports in other parts of the world. The objective, she said, was to reduce the time spent in clearing goods from months, to 21 days, and finally to 48 hours, so that the ports would become user-friendly and efficient, with faster turnaround time.
'Our target is to ensure 48-hour cargo clearance in Nigeria, but we will start with three weeks cargo clearance in the short term, to enable us achieve 48-hours clearance in the long run. We can achieve this, if operators and agencies involved in cargo clearance operate on 24-hour basis. We are giving them within the next three months to organise themselves, so that implementation will take place,' she said.
To solve the problem of empty containers, the minister disclosed that government would come up with a container management strategy, to ensure effective disposal and usage. She continued: 'We are going to sit down with all stakeholders, including concessionaires, ship owners and port users, to develop a strategy to handle empty containers, or deploy them to other uses. We are going to commence action to see it implemented, because we have heard many complaints from stakeholders on how it affects port efficiency.'
Subsequently, the Federal Government set up an independent task force from the private sector, which includes the committee on presidential monitoring, to rigorously monitor the policy implementation, to ensure compliance.
But, while certain stakeholders argue that the 24-hour port operation is not practicable, the Customs and the Nigerian Ports Authority (NPA) do not agree completely with that position.
What the Customs say
Customs officials, who spoke to Daily Sun said although there are concerns, the 24-hour port service is already in operation, with the Customs doing its own bit. Musa Tahir, Assistant Comptroller-General of Customs (Headquarters), said of the service: 'Most of our operations are 24 hours. When you are talking about the 24-hour clearing process, our server is open 24 hours a week.
All we want is for importers and their agents to come forward, process their documents and carry their goods. We are available for them. For now, we are under instruction to wait. I believe that with publicity, importers and agents will get to know about it because in most parts of the world now, the ports operate 24 hours daily.
Timi Bomodi, Public Relations Officer, Apapa Customs Command, one of the busiest ports in the world, while reacting to posers about the facts on ground that does not support 24-hour port operations as mandated by the President, asked, 'What facts are you referring to? That is not true. Now I will implore you to come to Apapa port's gate at 2a.m and see if there are officers working. Then, if you wish, you can also go to AP Moller Terminal (APMT) and ask them how they function, because standing operations in Apapa is 24-hour. You can also go to the Bulk Terminal, where bulk consignments are offloaded, you'll also discover that they work 24 hours. These are core areas if you are talking about activities here.'
On why you don't see importers and clearing agents coming forward to clear their consignments at night, if he believes the full day service thing is operational, he said; 'It is up to them. We already told them that we are here; we are available. It is one thing to be present at your duty post; it is another thing for people that know that you are present at your duty post to avail themselves of your services.
You can't take a gun and order them to meet you to get served. But we are here; anytime they are ready for us to work, we are following the Federal Government's directive as to how we should work. We have already commenced that and they are aware that we have commenced. Anybody, for example, whose consignment is selected for scanning does not mean he has to be there when it is scanned, but he knows that it is being done on a 24-hour basis. Anybody that wants his goods exited, containers leave here all through the day.'
Also broaching the issue of security, Bomodi said: 'Those are concerns but when you have been given a directive by the government, you do the best you can and allow those factors that you cannot control to take care of themselves one way or the other. Those are areas other organizations, whose primary assignment covers, should be looking at because we don't just work here in isolation; we work with other people. Our responsibilities are defined; there's too are defined, and I think security in general belongs to another organization. So, if they provide that, am sure it will boost the process. It is vital in the process. If they also look into that, it is going to make the whole 24-hour thing more viable and more people will be encouraged to use it.'
Another Customs Official, who spoke to Daily Sun under anonymity, differed from Tahir and Bomodi. According to him, inasmuch as the 24-hour operations as obtained in other climes, is a lofty policy. It is not something you just announce without putting the necessary structures in place to make it workable.
'Yes, the Customs and the Police can secure the ports, so if containers are exited from the ports at night, once it is within the ports, they are safe. But what about outside the ports.
How are we sure that if the containers leave the ports and enter the roads that armed robbers will not attack them. How secure are these containers outside the ports. What has been done by the government to take care of this? He queried. He said that concerning delivery of containers in daytime, the Customs have received reports of how hoodlums harass drivers when they are offloading; how they should 'settle' them before they allow them to offload legitimate vessels.
'If they could do this during the day, how are we sure it would not be worse at night? How are we sure that these boys will not hi-jack these containers to unknown destinations?' He asked. He, therefore, noted that for the so-called 24-hour port operations to succeed, the issue of state police is imperative. 'If containers must move at night, then state governments should have full compliment to secure its territory. If things remain the way they are, I don't see the 24-hour thing working effectively because people have already lost confidence in the Nigeria Police Force,' he remarked.
Also speaking on the readiness of clearing agents and importers for the 24-hour operations, he said that while the Customs and the terminal operators may be ready, the importers and clearing agents are not.
'How will these people cope with the operations? Will the clearing agent that resumed work in the morning be able to wait till late at night to take delivery, and come back again the next day. How safe are these agents, concerning their movements?'
He argued that although the idea is a good one, the government should go back to the drawing board to rethink it if it must be practicable. 'Yes, it happens in the ports overseas. We should not just take it like that, but we should learn to adapt it properly to our own environment,' he noted.
Position of NPA
The Nigeria Ports Authority, on its own, said the port is open for business 24 hours. A Press release signed by Michael Ajayi, general manager, Public Affairs, immediately after the oil subsidy removal strike in January, said: 'Further to numerous public enquiries, the management of Nigerian Ports Authority wishes to state that the nation's seaports remain open for business as usual. We also wish to add that we are in operation 24 hours/7 days a week. Consequently, port users are as usual assured of uninterrupted port services.'
Mohammed Bulangu, NPA's general manager, Western Ports, told Daily Sun that: 'The ports have been working 24 hours, even before now. 'Our gates are open 24 hours. Yes, there are challenges but these challenges are mainly security. How many of the agents can come and clear goods at 2am or 3am, or how many importers can clear goods at that time.
'On the other hand, if you look at some other importers who imports homogenous cargoes like Flour Mills Nigeria Ltd. that imports bulk fertilizer, and have their factory at Iganmu area, their trucks move 24 hours. For other cargoes, because of their sensitive nature, most of the importers would not want to move them to the roads late at night. Most of the ports are open 24 hours, the terminal operators are ready to do the work and they discharge 24 hours. If you go to AP Moeller container terminal, they work 24 hours.
'If you go to ENL, as long as there are receivers, they work 24 hours. If you go Flour Mills, they work 24 hours; if you go to GDNL (Green View), they work 24 hours; same with Tin Can. But like I said about the challenges, how many of the importers would come out late at night to clear their goods.'
He, however, raised some questions, which needs answers: 'In the ports, terminal operators work on shift 24-hour. But will our banks open on Sundays? Can a customer transact business on Sunday?
He said those who stay to clear their goods on Saturdays find it a little bit easier. 'If the importers take the advantage of the remaining days and if the security challenges along the roads are addressed, people will be willing to clear their goods.' He said the reason why some port officials may not be present on weekends is because port users are engaged in one event or the other, and don't come forward. 'That is why many of them would not work beyond a certain time both on weekends and at night.
Contention of importers and clearing agents
The clearing agents differ on the issue. While some said it is already working and they are taking advantage of it, others said it is a mirage. Osy Ezenweinyinya, Public Relations officer, International Freight Forwarders Association, said that much as the idea is a lofty one, the government should go back to the drawing board.
He said that until the issue of security at night is properly addressed, whatever position anybody takes on the project does not make much sense, especially when one considers that when any importer loses his property to hoodlums at night, the state will not come to his rescue financially.
'How safe are the clearing agents at night? If people come to the ports and leave, say at 2a.m, how safe are they,' he asked. Emeka Chukwumalu, secretary-general, Save Nigeria Freight Forwarders, Importers and Exporters Coalition (SNFFIEC) said, among other things, that the government should get the banks to participate in the process. 'If the 24-hour service should be solid, the banks must be working late nights and on weekends. 'How practicable is this,' he asked, adding, 'that is why I think the 24-hour thing is not firm.' He maintained that the issue of security needs to be properly addressed by the government if they are serious to make the ports operate 24 hours, seven days a week.
Amansi Ogbogbo, Task Force General, SNFFIEC, said the arguments put forward by stakeholders is very valid. He noted that communication sharing between the government and port users is very important for the process to work. 'The government should seek the opinion of freight forwarders and importers on this. We at SNFFIEC have a lot to contribute to the working of this process. A process like this is not what you begin hurriedly,' he advised.
For Valentine Ozuruike of Glorious International, the 24-hour operation is working to an extent. 'At the Apapa port you can take delivery at anytime of the day. The same thing applies to Tin Can Island Container Terminal (TICT) 2nd gate. There is total compliance there, but for the other smaller ports, they are yet to comply,' he said, adding, 'I believe they will soon comply with 24-hour directive.'
Azubuike Ugwuoke, chairman, Cargo Concepts, said it is a welcome development and that it is working partially in Apapa and TICT, but not in total operation in other ports. He said the government should create necessary awareness for agents and transporters to know about it. 'The awareness is very important because some agents and transporters are yet to know that 24 hours operation is in existence. The awareness is very important because some people will close and go, without knowing that work is still going on, like the Customs that work day and night.'
Concerning the security, he said 'it is only God that is safe-guarding the nation. For as far as security is concerned, we are not doing enough. If you take container in the night, those hoodlums can intercept you, especially at Mile 2. Also at Liverpool Bridge. They used to climb and open containers on a lorry in motion, especially at that hour. It is necessary for the government to put police patrol teams along all the roads where these trucks ply, so they could be properly monitored.'
Chief Clement Okwuchi, also of Cargo Concepts, said the project should be encouraged, as it is beneficial to the economy. He said it would help decongest the ports if it works.
FG's position on banks working at night
Addressing the issue of banks working late nights and weekends to make the 24-hour thing work, Professor Sylvester Monye, special adviser to the President on Performance, Monitoring and Evaluation, told Daily Sun that 'People don't do cash transactions anymore. If you want to clear goods, it's been assessed, you know the cost of duty payable on your goods, you don't wait for banks in the night. There is nowhere in the world that banks open in the night. You need to plan your shipping.
'There is what is called shipping documentation. If you ship your goods and as soon as the ship sets sail, you are given what is called bill of lading. The bill of lading tells you the contents of the shipment and the value; you have at least two weeks from when the ship sets sail to when it arrives to process your documents and pay the necessary charges. So, what happens is that when the ship berths, you now do the physical examination or whatever processes you need to complete to clear your goods.
'So, it is not in the middle of the night that you say the banks must open 24 hours in order for you to do your clearance. I don't think it happens in Cotonou or Ghana, where you have banks opening 24 hours. It is not in the middle of the night that you are supposed to pay your duty. You are supposed to do your duty payment and process even before the consignment arrives. So, it is a question of proper documentation, proper declaration, because some of the importers, as you well know, do false declaration and under declaration…and they say the problem is the Customs. The problem is not the Customs; the problem is sometimes with the importers and the agents. It is a holistic thing that we have to look at. If everybody does what he/she is supposed to do, then I think we will have smooth sailing,' he declared.