FRSC, Police Compete For Right To Register Vehicles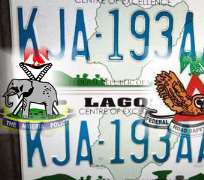 ABUJA, March 28, (THEWILL) - The Nigeria Police and the Federal Road Safety Corps (FRSC) were on Wednesday dramatically locked in a hot contest of supremacy, as each agency claimed to be vested with the power to conduct the registration of vehicles in the newly introduced scheme for vehicle plate numbers and driver's license.
Arguing that the right to register vehicles rests with the state Motor Licensing Authority (MLA), Deputy Inspector General of Police Olajide Akano, who appeared before the Senate Committee on Federal Character and Inter-governmental Affairs, described the new number plate registration and driver's license upgrading as "illegal" and a "violation" of the Act that set up the Corps.
"The Police has already concluded an electronic data system — Enhanced Central Motor Registration (ECMR) — which will capture vehicle registrations in the country electronically and assist in addressing security problems because crimes are usually carried out using vehicle," he said. "The ECMR will cost only N3,500 for plain glass vehicles and N5, 000 for tinted glass vehicles."
But quickly reacting, FRSC Corps Marshal, Osita Chidoka declared that the ECMR programme of the Police had since nine years ago been faulted and certified illegal by the Joint Task Force that met separately in Kano and Nasarawa States.
Reading the communiqué of the JTF to the senators, Osita noted that the Act of the FRSC is very clear on the production of number plates and the compilation of data for it.
"At the 104th meeting of the Joint Tax Board (JTB) between August 6 and August 7, 2003 in Nasarawa State, it was noted that road taxes are the responsibility of the states. The communique also highlighted that the ECMR are un-receipted by the Police," he said. "The meeting agreed that the function of keeping motor vehicle records is kept statutorily by the FRSC… The CMR, as currently put, is illegal. The JTB said that."
However, the chairman of the committee, Dahiru Awaisu kuta intervened in what was becoming re-ignition of the agelong rivalry between the Police and the FRSC.
Senator Kabiru Marafa faulted the comment of the Police DIG on FRSC's non-possession of the right to produce the number plates, referring the audience to a clause in the FRSC Act that empowers it to issue driver's license.
The committee seemed unfavourably disposed to the plan of the Police to embark on another registration at added expense to Nigerians, adding that its target was a way to streamline all the registrations into one.
Senator Domingo Obende said it was obvious from the response of the Police DIG that there was no synergy between the Police and the FRSC on the registration exercise.
Meanwhile, the chairman of the committee cautioned Minister of Information, Labaran Maku on his comments about resolutions of the National Assembly.
"I must advise the Minister of Information to desist from making unguarded statements on the resolutions on this matter. They are ill-timed, pre-emptive, unfortunate, insensitive, inciting and uncalled-for," he said. "After all, we are not at war with the Executive. We do not intend to be at war with any arm of government. The wellbeing and welfare of the people is the main concern of this administration."