Wives of fire service personnel say they're losing husbands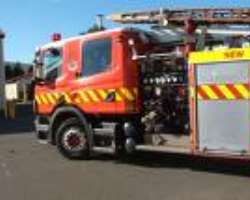 Spouses of officers of the Ghana National Fire Service have expressed concern at the inadequate accommodation provided for officers on transfer to other stations.

Mrs. Margaret Ferkah, National President of Wives of Fire Officers Association, said at the weekend that some of the wives had lost their husbands to other women as a result of the problem.

She raised the concern at the association's second annual delegates' conference in Sunyani.

She said the inadequate accommodation forced officers' wives to live elsewhere for some time before joining their husbands later.

"Some of the officers take advantage of their wives' absence to enter into other relationships that disrupt smooth family life", she said.

Mrs. Ferkah appealed to the government to provide good accommodation to enhance the work of the officers.

She said the association was established with the aim of building the women's capacity so they could assist their husbands and boost their morale for higher performance.

Mrs. Ferkah said the association was yet to be inaugurated to take it to a new level and empower members to engage in activities that would propel association to become a strong women's organization.

She appealed to NGOs, churches and individuals for support in pursuance of their set goals.

Mrs. Goi Cecilia Ataa Amponsaa, Brong-Ahafo Regional President of the association, said the association's collaboration with the Department of Women had benefited members through educative seminars and workshops on Women and Children's health, Responsible Parenting, Care and Prevention of HIV/AIDS, Menopausal Signs and Management and Women in decision making.

The association donated bags of rice, sugar, bread, soap and 100 Ghana cedis to Compassion is Love in Action Orphanage (CILIA) at Yawhima, a suburb of Sunyani.