NIGERIANS EXAGGERATE PDP CRISES -NWABUNIKE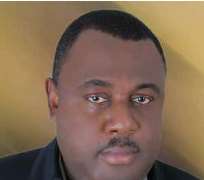 Nwabunike
Chief Tony Nwabunike vied for House of Representatives seat in Anambra under the platform of Peoples' Democratic Party(PDP) in 2011. In this chat he speaks on  wide range of issues.
Excerpts:
You contested the last election as a candidate of the Peoples' Democratic Party(PDP) for House of Representatives in Anambra but the controversy in the party over who was the actual candidate affected you, to what extent has this affected your ambition and faith in PDP?
I must tell you that it was a traumatic experience. I never expected it. But that is life. Though it was a painful experience it has not affected my faith in PDP. I live a life that accepts that everything that happens has a divine colouration.  I thank my constituency for voting for me and I believe that I still have another opportunity in the future to realize my ambition.
One thing that makes me not to give up is the fact that the PDP National Vice Chairman (South East) Olisa Metu is a man who hates injustice. He is  from Anambra and he has been working hard to ensure that things go smoothly in the party in the state. Several party members who want things done rightly have confidence in Metu's leadership. So I believe that there is no need to worry so much about what happened in 2011, I am looking forward.
I joined other party members for the ward congress which just took place. I am happy that it was conducted peacefully and it has lent credence to what I said about the leadership of Metu. If it were before we would have been inundated with all manner of unsavoury tales.
Are you  not worried that Anambra PDP has always been embroiled  in crises and that these crises have continued to give All Progressives Grand Alliance (APGA) an advantage to maintain dominance politically?
I don't know what you are saying, the fact that Governor  Peter Obi of APGA is ruling the state does not make APGA a dominant party in the state. PDP is still controlling the state and will win Anambra any day, anytime .
I am being very objective, don't be carried away by the propaganda some people dish out on a daily basis. PDP is on ground and  it has proved that it is on ground by the way the results of the 2011 elections went.
On the issue of recurring crises within the party , what I thought you would have said is that Anambra PDP deserves commendation for always coming out of every political misunderstanding  stronger. That point must be made very lucidly. This crises you talk about don't just come, they come because motley of individuals are involved. It is a party which has members in all the nooks and crannies of the state. You and I know that where many people are involved you will always see disagreement.
Having said that, we should concern ourselves with the way Metu's leadership, for many years have ensured that after every disagreement, those involved are brought to the table and the issue (s) causing disagreement is resolved. We don't have to focus only on the negative we have a duty to also tell the world that many good things are coming from the party.
We have crises in several other parties, nobody hears it. In Anambra we have been hearing some people loudly calling for the removal of the APGA Chairman, it is a sign of crack in the fold of the party but people are pretending not to hear about it. When it is PDP the same people will go to mountain top and shout that Anambra PDP is this or that.
Senator  Andy Uba's election was recently quashed by courts and some people believe it will be difficult for PDP to reclaim the seat  when a fresh  election is held?
Those saying that  are few individuals in all these unknown parties. Uba is sorting out his case in the court,  we should be patient enough to get to the end of the case. I don't like engaging in all these conjectures and unnecessary propaganda. I have  told  you that PDP is on ground and will win any decently conducted  election in Anambra.
If the situation changes tomorrow I will be bold enough to say it. Anambra PDP has been working hard to ensure that it continues to dominate the political space.
The burial of Dim Emeka Odumegwu Ojukwu brought PDP and APGA together in the state, what informed that?
The answer is obvious-Ojukwu is a leader everybody adores irrespective of party affiliation. Although while alive he was the leader of APGA, outside politics he was the leader of all of us. And I would not like you to localize the man, he was the leader of Ndigbo, he was a nationalist, he was a patriot, he was a unique Nigerian. You and I saw it during his burial. Every Nigerian publicly identified with him and showered encomiums on him.
There was nowhere the state could have been partitioned along party lines during the burial. Party interests were rested momentarily in honour of this great man. And let quickly point out one thing-Anambra PDP does not engage in idiotic politics. If you have been following trend in the state you have observed that PDP has been supporting Obi when he takes the right decision on any matter. We do that because the ultimate goal is to make Anambra great, it is not about any individual.
The issue of who leads the party at the national level  has been on the front burner, do you think those who have indicated interest to contest for chairmanship have qualities that can transform the party?
Of course, yes. There are great men who command the respect of several Nigerians among the contestants .I am happy with the qualities of some people who are running for the chairmanship of the party. You see, the only thing many have been crying for is that a deliberate effort should be made to enthrone internal democracy within the PDP. We have been seeing some positive signs , signs that are clearly giving hope to millions of members that the party is transforming.
President Goodluck Jonthan is quietly changing a lot of things in the country. I listen to some people criticize him and sometimes I laugh at their ignorance or pretence. Gradually our political atmosphere is becoming congenial for elections and we still feel that this is not a positive signs. We now speak freely including abusing those in power and nothing happens.
Some of us know how it used to be in PDP, where some people were gods unto others, whatever they said were laws. Everything was done with impunity; that no longer exists in the party and we still feel that changes are not taking place. We have to be sincere.  With the atmosphere the President has provided , I believe that anybody that emerges chairman will not  find it difficult  transforming the party.
Beyond PDP I have always asked other parties to get their acts together in the interest of this democracy, it should not be only criticism of every step taken by PDP even when it is obvious that they are more autocratic that the party they are condemning.
If you feel the President is doing well does that also include such areas like security and economy?
Yes, we have security challenge, we have problem of high rate of poverty but we must also acknowledge that government is not folding its arms , that it is confronting the problems. I am not saying this because I belong to PDP, I am saying it because I know what is going on. Like other Nigerians my wish is that government should do more to improve security of lives and property. The nation's economy can not move forward in the  face of insecurity as we currently have. That is the simple truth.