REVENUE SHARING FORMULA: NORTHERN GOVS CAN'T BE INTIMIDATED -GOV ALIYU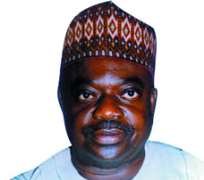 Governor of Niger State and Chairman of the Northern Governors Forum (NGF), Dr. Mu'azu Babangida Aliyu has said that the governors of the 19 Northern states could not be intimidated by their Southern counterparts and the Federal Government over their call for review of revenue allocation formula.
Governor Aliyu stated that, the North has been shortchanged, even when expectations of the citizens from the government were rising by the day and there was a limit to what any state government of Northern extraction could do as their allocations were limited.
The NGF chairman stated this at the opening of the annual conference and general assembly of Society for Peace Studies and Practice, held at the Nigerian Army Peacekeeping Centre, Jaji, Kaduna yesterday.
According to him, the need to create genuine peace which is not only the absence of violence, but also the presence of equity and justice in the Nigerian community was imperative to addressing the current security challenges in the country.
'We need to do that and it is our responsibility as Nigerians to do that. We as governors, a lot of expectations are placed on us by the public. Everybody wants the governor to do this and that and our diamond and gold has not come out from the ground and even our oil from the Chad Basin has not come out from the ground.' 'So, there is a limit to what any Northern state would be able to do. So, if you hear us cry for the improvement of the revenue formula, it is because we believe that we are being shortchanged,' Governor Aliyu said.
He stressed that, 'the constitution says that the revenue formula should be changed or should be looked at every ten years and in some countries every five years. It is now over twenty years that our revenue formula was looked at and we made that statement and believe me since we made that statement, people have decided to misread because they are looking for things to do.'
'We did not attack derivation because even during independence, there was the principle of derivation. But till tomorrow, I will continue to talk about the old the oil wells that are there in the ocean; 200 miles away. It does not belong to any state.'