June Sarpong-Beauty and Brains; the Ghanian Sister who is makeing waves in Britain.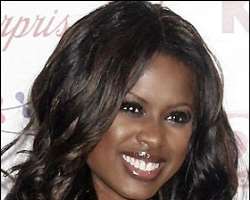 Photography by http://junesarpong.com/home.html
would like to introduce us (Africans in the Diaspora) , especially in the U.S, to an amazing lady. I just happened to stumble on her name in something I was reading. At first I thought of 'shooting her an email', you know, invite her for an interview, and then as I go0gled her name, I thought, maybe not an interview…not just yet. I will settle for doing a profile on her for now! Her name is June Sarpong.
Ms Sarpong was born in East London in May 1977 to Ghanaian parents. She is the sister of Sam Sarpong of the MTV's show Yo Mama. Her parents split up when June was seven, her brother came to live with their father in the U.S while June was raised by their mother in Leytonstone. She attended Connaught School for Girls and says that she was an all-round girl. Everyone loved her, she could fit in with any click, the cool and the nerds, so we can say that her popularity began at an early age.
Her first gig was with a radio station in London, Kiss FM where after only a few months, she got a full time position on the media staff. Shortly after that she got a position at Arista Records, looking after some of the biggest artists in the entertainment industry including Whitney Houston and Puff Daddy. From there she began presenting for MTV (UK), and became the celebrity interviewer for T4, one of Channel 4's most successful and long lasting series.
Obviously in the U.S we are not familiar with her, but June Sarpong is a very recognizable face in British Television and is one of the most intelligent and dynamic presenters on TV today. She made TV history when she interviewed Tony Blair, and just to name a few of the celebrities that we are familiar with, Sarpong has also interviewed: Sir Elton John, George Clooney, Halle Berry, Britney Spears, Justin Timberlake, Will Smith and Nicole Kidman, introduced /interviewed dignitaries to include Prince of Wales, Bill Clinton, Al Gore, and Nelson Mandela.
Not only does she have uber talent; covering all topics from Politics, to Entertainment, to Fashion, she also has a very philanthropic heart. "Giving back is June's number one passion, her chosen charities are those that empower by giving hope and opportunity to underprivileged young people."
June is an ambassador for the Prince's Trust and campaigns for the Make Poverty History movement, for which she traveled to Ghana in 2005 to make a film in honor of. She was awarded an MBE (Member of the British Empire ) for services to broadcasting and Charity on the Queen's 2007 New Years Honors List. She was one of the youngest honorees. She also has her own producti0n company (Lipgloss Productions), and other exciting things in the works that I will make sure to follow up on.
I have nothing but mad respect for this African Sister; Africans making it happen around the globe. For more on June Sarpong go to her personal website .http://junesarpong.com/home.html