SANUSI'S CBN SHOULD EXTENT ITS BENEVOLENCE TO IGBO VICTIMS AND OTHERS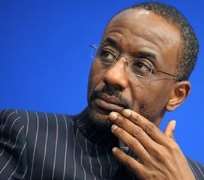 All Nigerians including Save Nigeria Group (SNG) and Christian Association of Nigeria ( CAN) should call on Sanusi's Central Bank of Nigeria (CBN) to extent his corporate social responsibility to Igbo victims and others who suffered mightily as result of Boko Haram rampage in Northern Nigeria. Many of the Ndi-Igbo residents in the north lost their husbands, wives and children together with their sources of income.
Many of these residents (not all) have since departed from Northern Nigeria and are back to their ancestral hamlets. In their departure from north they have abandoned their source of livelihood, occupations, businesses and houses in order to protect their lives and the lives of their children. In most cases the bread winner of the families were killed and widows have to take responsibility of raising the children without help in the absence of their late husbands. It is becoming self-evident that it is only Sanusi's CBN is the only institution that cares for the victims. These families need help and if Sanusi's Central Bank of Nigeria can offer the help as it has demonstrated with the N100 million gift to Kano victims, they do not have any alternative than to make appeal to the CBN.
To be truthful, no one can blame another human being for running away in order to safeguard his or her God-given precious life. History has thought many of these fleeing southerners that time is not on their side and that there is no reason to anticipate for the best as lives and property were being destroyed before their presence. When these victims chose to linger around, hoping for the best and if the worst continues, they have themselves to blame. That is why they were precautious and took off because they do not want history to repeat itself and be blamed for not hearken to the voice of reason and not learning from history. They do not want to abandon their property and businesses, but the threat of terror and its visitation gave them the compelling reason to run for their dear lives. When the governor of Central Bank of Nigeria gave a gift of N100 million to the victims of Boko Haram in Kano, many groups and others including Save Nigeria group (SAG) and youth wing of Christian Association of Nigeria (CAN) were calling for him to be sacked. It is the prerogative of these groups to make their request for Sanusi's dismissal and to voice out their grievances but their actions are not necessarily fruitful.
What they should be asking is for Sanusi's CBN is to extent its gift and benevolence to the rest of other victims that have suffered in the hands of Boko Haram including Ndi-Igbo residents who have lost everything - life and property. Ndi-Igbo residents of the north love their homes and many of their children have not known another place as home but northern Nigeria. In most cases they have assimilated, socialized and are fluent in Hausa and local dialects. When everything stabilized and when the unrest is finally checkmated, these victims may even decide to return back to their old homes. But at the moment they need help from where ever they can get it from.
Instead of these groups SNG and CAN asking for Sanusi to go, they should come together and make it known that many other victims should also be taken care of. These groups with their clout can make their case to the presidency and stake holders, appealing to them to have a comprehensive agenda plan to aid the victims of Boko Haram's destruction. Asking for the sacking of Sanusi is not necessary because it is not going to contribute to making things better. Moreover, the letting go of Sanusi may not be realistic due to constitutional constraints and the independent of CBN from the executive as was promulgated by the Nigeria's constitution. Moreover Sanusi Lamido has executed his monetary policy responsibly and has won many accolades.
Igbo widows who came back from north have to etch a living in the absence of the heads of the families. They have to provide for their children and raise these children alone by themselves. And to add salt to injury most of these widows were home makers, who stayed at home and do domestic works. Now they have to go out an earn a living by going to training school or start small businesses and they need the funds. Therefore federal government including Central Bank of Nigeria should come to their needs and render the desired and deserved benevolence to the helpless victims. SNG and CAN should also participate in asking CBN and the government to aid the people that greatly need the help. The aiding of Nigerians who are victims of the social unrest bodes well for a stronger and united Nigeria.
Written By Emeka Chiakwelu
[email protected]

Disclaimer:

"The views/contents expressed in this article are the sole responsibility of

thewillnigeria.com

and do not necessarily reflect those of The Nigerian Voice. The Nigerian Voice will not be responsible or liable for any inaccurate or incorrect statements contained in this article."
Articles by thewillnigeria.com