JONATHAN ASKS FEC MEMBERS JOSTLING FOR 2015 TO RESIGN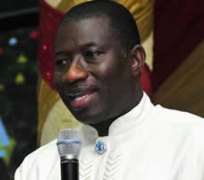 President Goodluck Jonathan
President Goodluck Jonathan yesterday advised members of the Federal Executive Council (FEC) interested in 2015, to resign from his cabinet.
He also warned chieftains of the party to avoid discreet meetings on 2015, saying they were distractions to governance.
The president spoke amidst growing concerns that the gains accruable from the removal of fuel subsidy, as encapsulated in the blueprint for Subsidy Reinvestment and Empowerment Programme, might be pretty difficult to achieve.
He made this known at the 58th Peoples Democratic Party (PDP) National Executive Committee (NEC) meeting held at its national secretariat, Wadata Plaza, Abuja.
'Let me plead with those who are interested in the general elections in 2015. I have noticed that some people have just started meetings. It is too early to hold meetings.
'The idea is that people who were elected into offices as governors and president be given some time to work. In a situation whereby a governor has not even stayed for a year, the president has not stayed for a year and you started harassing people for 2015, is another way of saying everything is about elections.
'There must be time to work. At the federal level, if you are holding a political office and I notice that you are involved in meetings for 2015 election, I will ask you to leave and go and hold your meetings because that meeting is too early; government must not be distracted.
'Nigerians are interested on what we put on ground for them and not how many elections we conduct and win,' the president said.
On the fuel subsidy reinvestment programme, President Jonathan said current realities have made nonsense of the laudable feat articulated in the SURE programme.
He noted that against the background of the reduction in the price of petrol following the agitation of Labour, 'what we have in the downstream sector now is price increase, as against total deregulation envisaged.
'I think as I came in I saw this SURE book being distributed, we are withdrawing it; this is the old one. We developed this with the expectation that we are going to completely deregulate the downstream of the oil industry, which is 100 per cent removal of subsidy.
'You know, we could not achieve that though there is increase in the pump price. So, this has to be adjusted. I don't want this thing to be distributed. It will give a wrong impression. Nigerians will start to say that Jonathan government promise this and what has it done?
'We are working on a new document based on reality but we don't want to promise what we will not achieve. Those who have the pamphlet should please return it. We cannot realize the monies that are stated there but we will still come up with a document base on what we get.'
He admonished the leadership of the party on the forthcoming convention of PDP to conduct a transparent ward, local and state congresses as well as its national convention, as against the unsavoury trend of imposition of candidates.
'Let us begin to move from the culture of imposition. From wards, states to national level, let us ensure that people are elected democratically. If we have rancor-free congresses, of course, we are sure that primaries or general elections in 2015 will also be democratic and the general elections will also be free and fair.'
Addressing journalists after the NEC's closed-door session, National Publicity Secretary of the party, Prof. Rufai Ahmed Alkali, disclosed that the party's NEC had approved a new timetable for the national convention, which would commence with ward congresses on March 3, 2012 and end with national convention on March 24, 2012.
He also disclosed that a slight extension in the tenure of present PDP National Working Committee (NWC) was approved.
'NEC also unanimously approved a slight extension of tenure of the current NWC to terminate at the end of March 2012. Similarly, NEC approved that tenure of office of ward, local government, states and zonal executive committees terminate in line with the revised timetable for congresses and national convention.''