Explosions Rock Maiduguri As BH Terrorists Die In Battle With Soldiers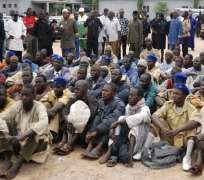 MAIDUGURI, (THEWILL) – The casualties were many on the side of the Boko Haram (BH) terror cell as they engaged soldiers of the Joint Task Force in a gun battle at Maiduguri's Baga Fish Market on Monday afternoon. It is however not clear whether civilians were killed.
The Boko Haram chose Monday to engage soldiers at the Baga Market where one of its members was overpowered, manhandled and handed over to the JTF on Thursday when he entered the market to kill a trader. Residents of the area told THEWILL that the sect's attack was a retaliatory one as several bombs were thrown into the market forcing people to flee. The sounds of rapid explosions shook the entire city and attracted soldiers manning a checkpoint close to the market.
In the ensuing gun battle between the Boko Haram and the Joint Task Force (JTF) several persons were killed. Residents put the number at least 20 but the JTF said eight (8) sect members were gunned down.
"We saw about three pick up vans loaded with people in front of Ibrahim Taiwo Police Station, opposite the Baga Market this afternoon shortly after the gun battle with members of the sect, but we can not tell whether they were corpses or those wounded in the gunfight," one resident who asked not to be named told THEWILL.
Confirming the incident to newsmen in Maiduguri, the spokesman of the JTF, Lt Col Hassan Mohammed said men of the Joint Task Force on Operation Restore Order in Borno successfully killed eight (8) members of the terrorist Islamic group in a gun battle that started at about 1.pm Monday. Hassan said three (3) traders were shot inside the market but added that they were immediately taken to the main hospital in the city for treatment.
"Our men who arrived the Market engaged members of the Boko Haram sect in gun battle and we successfully killed eight of the sect members while we recovered weapons as well as detonated some IEDs…" Hassan said, adding, "The civilians wounded have been taken to the hospital."
The Boko Haram, meaning Western education is sin, is a terrorist group that says it wants Islamic law enthroned in northern Nigeria.