Bombings Hit Syria, Saudis Push For Peace At U.N.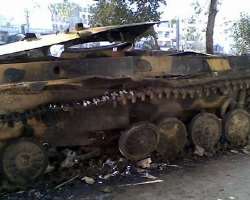 Violence flared across Syria, including bomb attacks that killed at least 28 people in Aleppo, while at the United Nations diplomats said a new effort was afoot to gain backing for an Arab peace plan to end 11 months of bloodshed in the country.
The two Aleppo bombings on Friday were the worst attack to hit the country's commercial hub during the revolt against the 42-year dynastic rule by the family of President Bashar al-Assad.
Mangled bodies and severed limbs lay on the pavement outside the military and security service buildings that were targeted - as shown in live footage on Syrian television, which has consistently portrayed the revolt against President Assad as the work of foreign-backed "terrorists".
No one claimed responsibility for the Aleppo bombings but they took place as Assad's forces grow more ferocious in operations to crush the uprising. Some opposition figures accused the government of manipulating events to discredit them.
Friday saw more unrest across the country, with activists reporting that security forces opened fire in Latakia, in the town of Dael in Deraa province, and elsewhere to break up demonstrations taking place after weekly Muslim prayers.
In Damascus, members of the Free Syrian Army fought for four hours with troops backed by armored vehicles who had entered al-Qaboun neighborhood in the north of the capital during a protest one mile from the main Abbaside Square, activists said.
The rebels said they had sustained several casualties but it was not known if any had died of their wounds.
In the western city of Homs, where a week of bombardments has killed dozens of civilians and drawn condemnation from world leaders, four people were killed in the opposition-held neighborhoods of Baba Amro and Bab Sebaa, the activist Syrian Observatory for Human Rights said.
Troops also opened fire as worshippers left a mosque in Homs after Friday prayers.
Activists in Homs said shelling started up again in the morning and they feared a big push was imminent to storm residential areas of the city that has come to symbolize the plight of those opposing the Assad government.
"The carnage in Homs continues and the martyrdom of the Syrian people continues," French Foreign Ministry spokesman Bernard Valero said. "Not only are we seeing an army that is massacring its own people, but for the Syrian army hospitals and doctors have become systematic targets for repression."
SAUDI PLAN AT UNITED NATIONS
At the United Nations, Saudi Arabia circulated a draft resolution backing an Arab peace plan for Syria among members of the U.N. General Assembly on Friday after a similar text was vetoed in the Security Council last week by Russia and China, diplomats said.
The new draft appeared as two advisers to U.N. Secretary-General Ban Ki-moon repeated a warning that Syrian government attacks on civilians could amount to crimes against humanity.
Like the failed council resolution, the assembly draft "fully supports" the Arab League plan floated last month, which among other things calls for President Assad to step aside.
Russia and China cast their vetoes in the council last Saturday saying the draft there was unbalanced and failed to blame Syria's opposition, along with the government, for violence that has killed over 5,000 people, according to U.N. figures.
There are no vetoes in the General Assembly. The 193-nation body's resolutions have no legal force, unlike those of the Security Council, but were the Syria text to pass it would add to pressure on Assad and his government.
The assembly is due to discuss Syria on Monday, when it will be addressed by U.N. human rights chief Navi Pillay. Diplomats said the resolution was not expected to be voted on then, but that there could be a vote later next week.
The assembly draft, seen by Reuters, broadly follows the one voted down in the council. While calling for an end to violence by all sides, it lays blame primarily on the Syrian authorities, whom it strongly condemns for "continued widespread and systematic violations of human rights and fundamental freedoms."
The draft urges accountability for those guilty of human rights violations, but makes no specific mention of the International Criminal Court, to which Pillay has said Syrian officials should be sent. Only the Security Council can refer Syria to the court - an unlikely move given its divisions.
In one addition to the council text, the assembly draft invites Secretary-General Ban to appoint a special envoy for Syria - a proposal that Arab League Secretary-General Nabil Elaraby put to the U.N. chief earlier this week.
In a statement, Francis Deng, Ban's adviser on prevention of genocide, and Edward Luck, his adviser on the responsibility to protect, said they were alarmed by Syrian security forces' "indiscriminate fire" on densely populated areas of the city of Homs.
Reiterating a warning from last July, they said such attacks could constitute crimes against humanity under international law. "The presence of armed elements among the population does not render attacks against civilians legal," they said.
REUTERS