WHY WE'LL ALWAYS CELEBRATE DANGOTE - JONATHAN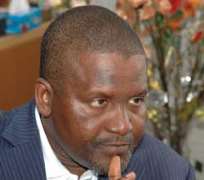 • Dangote
President Goodluck Jonathan yesterday reacted to the conferment of Nigeria's second highest national honour on business mogul, Alhaji Aliko Dangote, saying the criticism was borne out of ignorance.
It will be recalled that the conferment of the Grand Commander of the Order of the Niger on Nigeria's business mogul, Dangote was trailed with mixed feelings from Nigerians. But speaking yesterday at the 6 million metric tonnes Ibese Cement Plant, Jonathan said he acted in the best interest of Nigeria realising the contributions of Dangote to employment drive of the country.
While commending Dangote for providing employment in the country, he enthused that the country needed more of Dangotes.
He identified job creation as one of Nigeria's major challenges and noted that the Ibese Cement Plant had the capacity of generating 10,000 jobs for the unemployed ones.
Speaking in the midst of captains of industries,, Diplomatic Corps, members of the Manufacturers Association of Nigeria, (MAN), the President wondered why Dangote should not be encouraged. His words: 'Let me appreciate Aliko Dangote for what he has being doing for this great country. When I honoured him by giving him the GCON, a number of people raised issues out of ignorance. People said I gave the title meant for Vice President to a person who is not holding a political office.
'He adds: 'They did not know that in terms of importance to the country, there can't be 30 percent of Dangotes because our greatest problem as a country is the number of unemployed young men and women.
'If everybody can come up with policies and programmes that will create jobs, definitely, government will embrace that person and continue to encourage that person.'
The president who expressed delight at Dangote's investment in Nigeria added 'Nigeria would soon enter the Guinness Book of Records as cement exporting country and not just oil exporting country.' Jonathan who disclosed that his administration would strengthen the Standards Organization of Nigeria to ensure that the country was no longer a dumping ground for foreign goods said his government would continue to encourage local production as well as increase the quality of goods produced in the country.
'We believe that the era of Nigeria importing fertilizer, rice would soon come to an end. There is no justification for Nigeria to be importing rice. A few years to come we would be exporting rice. We strengthen the SON to ensure that Nigeria is no longer a dumping ground for foreign goods. We must encourage local production and also increase the quality of goods produced in Nigeria. 'Our investments are borne out of belief that manufacturing should form the major pillar of our current economic revolution.
'We believe industrialization is one of the vehicles for achieving our Vision 20:2020 target and we are confident that with the concerted efforts from all stakeholders, we will definitely get there.'
On the rail system, the president said it would reduce pressure on the roads. He also noted that transportation of goods like cement are cheaper through rail. 'This is a kind of story that we love to hear. Nigerians are tired of hearing the stories of bombing in Kano, Maidugri, Bayelsa. Our children must meet a better Nigeria than this.'
In his welcome speech, the President/ Chief Executive, Dangote Group, Alhaji Aliko Dangote, said that the new cement plant was established to put an end to importation of cement in the country.