Stranded Nuhu Ribadu To Serve In Jonathan's Government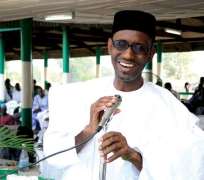 SAN FRANCISCO, February 07, (THEWILL) – President Goodluck Ebele Jonathan has approved the appointment of former Presidential candidate of the Action Congress of Nigeria, Mallam Nuhu Ribadu as head of the Petroleum Revenue Task Force.
Ribadu's appointment is coming as a shock to his colleagues in the progressive movement.
THEWILL gathered that the politician has been reportedly out of favour with the ACN and has thrown his weight behind President Jonathan's reform programmes.
A statement Tuesday from the Ministry of Petroleum Resources confirmed the appointment of the former anti-graft agency boss, who will serve alongside a former Head of Service (HOS), Mr. Steve Oronsaye.
PRESS RELEASE – RE: PETROLEUM REVENUE SPECIAL TASK FORCE
Consistent with the policies and promises of President Goodluck Ebele Jonathan's Administration, and underpinned by the yearnings of the people of Nigeria for transparency in the Petroleum Industry, the Honourable Minister of Petroleum Resources has set up a Petroleum Revenue Special Task Force designed to enhance probity and accountability in operations of the Petroleum Industry.
The Petroleum Revenue Special Task Force, whose membership is listed below, is charged with the following terms of reference:
Terms of Reference
1. To work with consultants and experts to determine and verify all petroleum upstream and downstream revenues (taxes, royalties, etc.) due and payable to the Federal Government of Nigeria;
2. To take all necessary steps to collect all debts due and owing; to obtain agreements and enforce payment terms by all oil industry operators;
3. To design a cross debt matrix between all Agencies and Parastatals of the Federal Ministry of Petroleum Resources;
4. To develop an automated platform to enable effective tracking, monitoring, and online validation of income and debt drivers of all Parastatals and Agencies in the Federal Ministry of Petroleum Resources;
5. To work with world-class consultants to integrate systems and technology across the production chain to determine and monitor crude oil production and exports, ensuring at all times, the integrity of payments to the Federal Government of Nigeria; and,
6. To submit monthly reports for ministerial review and further action.
MEMBERS
1. Mallam Nuhu Ribadu - Chairman
2. Mr. Steve Oronsaye - Dep. Chairman
3. Mallam Abba Kyari - Member
4. Ms. Benedicta Molokwu - Member
5. Mr. Supo Sasore, SAN - Member
6. Mr. Tony Idigbe, SAN - Member
7. Mr. Anthony George-Ikoli, SAN - Member
8. Dr. (Mrs.) Omolara Akanji - Member
9. Mr. Olisa Agbakoba, SAN - Member
10. Mr. Ituah Ighodalo - Member
11. Mr. Bon Otti - Member
12. Prof. Olusegun Okunnu - Member
13. Mallam Samaila Zubairu - Member
14. Mr.Ignatius Adegunle - Member
15. Mr. Gerald Ilukwe - Member
16. Rep. of FIRS - Ex-Officio
17. Rep. of FMF Incorporated - Ex-Officio