EGYPT'S SOCCER TRAGEDY: THE LESSON FOR NIGERIA AND THE REST OF AFRICA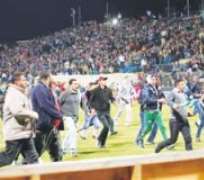 Football fans from across the globe were stunned on Wednesday when a melee broke out between fans of two Egyptian clubs, Al-Masry and Al-Ahly, leaving at least 73 people dead and 1,000 injured in the Mediterranean port city of Port Said, one of venues used during the 2006 edition of the Africa Cup of Nations. In this reports, GOWON AKPODONOR looks at the incident with a view of preventing a future occurrence, especially in other African countries like Nigeria, where spectatorship has eluded the league matches due to increasing cases of hooliganism by the fans.
THE Proprietor of Cable Soccer Academy in Delta State, Edwin Onovwotafe, was speechless for several minutes after watching clips of the bloody clash between fans of the two Egyptian clubs, Al-Masry and Al-Ahly, on Wednesday night. 'I was in great shock,' he told The Guardian.
For him, the pitch looked more like a war zone rather than a sports arena. 'Is this a football match or war zone? This is sheer madness and every right thinking football lover across the world must condemn this terrible incident. Football is to unite people and not create division among them.
'This is very sad development for the game of soccer in Africa. I thought football in Africa had gone beyond this level, but with this ugly situation in Egypt on Wednesday, I am sure there is the need to better educate our fans that football is not meant to cause anguish among people,' Onovwotafe stated.
The fracas, according to reports, began when a fan of Al Ahly raised up a banner insulting the supporters of the home team after the 3-1 victory of Al Masry. This sparked off the deadly attacks, which was the worst incident of soccer violence in Egypt and the deadliest worldwide since 1996.
These prompted the government to declare three days of national mourning and suspended all Egyptian Premier League matches were postponed indefinitely. Also, the leadership of the country's football federation sacked while the governor of Port Said resigned.
Many Egyptians, including a group of hard-core Al-Ahly fans known as the 'ultras' have accused the police authorities for failing to protect fans.
The Confederation of African Football (CAF) has ordered that a minute silence be held at the quarterfinal matches of the on-going Africa Cup of Nations beginning from today.
In May 2001, football in Ghana was also hit by a tragedy that left over 126 people dead following a stampede during a game between bitter local rivals, Hearts of Oak and Asante Kotoko in Accra.
In 2008, an ugly incident happened in Aba, South East Nigeria during a league match between Enyimba and Heartland FC. The game had ended in a draw, but some angry Enyimba fans descended on referee Paul Umuagu and his assistants, Auwalu Barau, and Abdulwaheed Dauda. The referees were left bleeding and hospitalized after they were thoroughly beaten. One of the referees, Barau, never recovered from the incident. He died last December.
The Aba incident, like many others in the Nigerian Premier League, was swept under the carpet with no one held liable for the attack.
The issue of hooliganism at league venues is a re-occurring affair in Nigeria and according to Onovwotafe, the trend is as a result of the win-at-home syndrome. Majority of the fans and supporters of clubs also feel that the referees must favour the home teams.
He recalled that some years back, Kwara United fans assaulted match officials in a league match played at the Ilorin Stadium, an incident that eventually led to the club being demoted from the premier division.
He continued: 'I also remember that the Team Manager of Sunshine Stars of Akure, Rasheed Balogun, was suspended some time ago from all NPL organised matches for instigating his players against referees in their match against Rangers in Abakaliki.
To Onovwotafe, incident in Egypt could have been avoided if the fans were real football lovers. 'I am a proprietor of a football academy in Delta State and I have been in this business of soccer for long. As a true football fan, one thing you must have at the back of your mind whenever you go for a match is that the game will produce end up in a win, draw or loss.
'Like I said, this terrible incident in Egypt must be condemned in all totality by true lovers of the game. Football is an avenue for fun and unity among people and not a platform to witch-hunt or kills one another. I am sure Nigerian fans and die-hard supporters of clubs in other parts of Africa must have learnt a big lesson from this 'man made' tragedy.
'Again, this incident in Egypt has brought to the fore how the government of a country should react when things are not going well with our football. God forbid, if the incident happened in Nigeria, neither official of the state FA nor those in the national body would have been torched. Look at the governor of Port Said resigning from office. What concerns the governor with an incident that happened on a football pitch? But he resigned because he considered himself as the chief security officer of the city. That is a society where people take responsibility for failures. In Nigeria, our governors would have carefully washed their hands off the tragedy and looked for scapegoats.
'I am also waiting to see if FIFA will suspend Egypt because of the step taken by the government in sacking the entire football federation.' Onovwotafe added.