PLAN TO CUT BURDEN OF TROPICAL DISEASE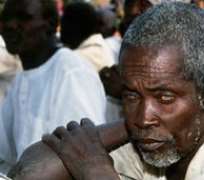 It is hoped to cut the number of cases of river blindness substantially
Politicians, health experts and drug companies have agreed a plan to combat 10 neglected tropical diseases over the next decade.
They aim to eliminate diseases such as leprosy and Guinea worm and drastically reduce cases of others, including river blindness and schistosomiasis.
The diseases affect more than a billion people a year in the poorest countries of the world.
The plan involves a dramatic increase in drugs and treatment programmes.
Among those signed up are global health organisations, the UK and US Governments, the Bill and Melinda Gates Foundation and pharmaceutical companies.
Dr Caroline Anstey of the World Bank said: "These are not neglected diseases – but rather diseases of neglected people."
Ancient diseases
'
Start Quote
I am confident almost all of these diseases can be eliminated or controlled by the end of this decade'
Dr Margaret Chan
World Health Organization
Dr Margaret Chan, Director-General of the WHO, said these ancient diseases were already being "brought to their knees with stunning speed".
"With the boost to this momentum being made today, I am confident almost all of these diseases can be eliminated or controlled by the end of this decade."
The goal is to eliminate the following diseases by 2020: Guinea worm, leprosy, lymphatic filariasis, blinding trachoma and sleeping sickness.
In addition the goal is to reduce and control these diseases: schistosomiasis, river blindness, soil-transmitted helminthes, Chagas disease and visceral leishmaniasis.
Disfigurement
Neglected Tropical Diseases is an umbrella term for a range of bacterial, parasitic and worm infections which flourish in areas with poor water quality and inadequate sanitation. They can cause disfigurement, disability, organ damage and sometimes death.
Thirteen pharmaceutical companies have agreed a dramatic increase in drug donation which will see 1.4 billion treatments each year being supplied.
In addition, several companies including GlaxoSmithKline, Pfizer and Sanofi have agreed to share compounds and knowledge in order to develop news medicines.
Sir Andrew Witty, CEO of GlaxoSmithKline, said: "No one company or organisation can do it alone.
"Today we pledge to work hand-in-hand to revolutionise the way we fight these diseases now and in the future."
The largest coordinated effort to combat Neglected Tropical Diseases was announced at an event at the Royal College of Physicians in London.
One key obstacle is the acute shortage of healthcare workers in many poor countries, who are crucial to ensure treatments reach those who need them.