FRESH BATTLE IN KANO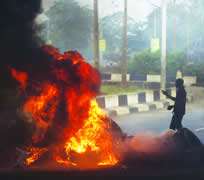 Gunmen attacked another police station yesterday in the flashpoint city of Kano, sparking a shootout with police and causing pandemonium, witnesses and police said. The shootout occurred in Zaria Road axis of the state. The attack followed the January 20 attacks by the Islamist group Boko Haram that killed 185 people in the city and after a string of recent threats of more violence from the group.
The bitter confrontation started at about 6.45pm at a police station in Naibawa area, after the sect members launched an attack.
The police station was on fire as at the time of filing this report. Soldiers were seen moving to the scene of the incident. Residents of the affected area have all run into quarters and homes to avoid being caught in the crossfire.
'A large number of gunmen stormed the area at prayer time and opened fire on the police station,' local resident Kabiru Maikatako told AFP. The police fired back and a shoot-out has been going on for the past 30 minutes,' he added.'I am now trapped in my (timber) shed. It is shooting all around and the whole area has been deserted. Only the police and the attackers are shooting at one another.'
Kano State Police Commissionner Ibrahim Idris confirmed the attack.'I am aware of the attack on the Naibawa police station,' he said. The commissioner confirmed to reporters that part of the police station was burnt.
He said no policeman died in the attack, adding that the security agents succeeded in repelling the sect members.
However, Idris said a civilian was shot dead by the sect members as they were retreating.