ICC To Decide Whether To Try Six Kenyan Suspects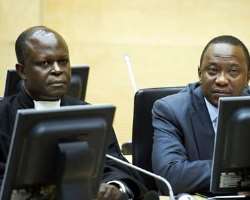 UHURU KENYATTA (R) AND A MEMBER OF THE DEFENSE COUNCIL ATTEND A HEARING AT THE INTERNATIONAL CRIMINAL COURT (ICC) IN THE HAGUE SEPTEMBER 21, 2011.
The International Criminal Court rules on Monday whether Kenyan presidential contenders, Uhuru Kenyatta and William Ruto, and four others should face trial for crimes against humanity for stirring violence after a disputed election in 2007.
The decision to hold a trial could wreck the plans of either politician, or both, to run in a presidential election expected next year and risks sparking protests, possibly riots, in Kenya if people feel it is unfair or fails to hold those responsible for the violence accountable.
It could also backfire on another presidential contender, Prime Minister Raila Odinga, who is accused by Kenyatta's and Ruto's respective supporters of trying to exploit the criminal charges for his own political gain.
The six politicians and officials are suspected of orchestrating violence that killed at least 1,200 people and forced hundreds of thousands from their homes.
ICC Chief Prosecutor Luis Moreno-Ocampo has applied to bring two separate cases before the court, reflecting the ethnic faultlines behind Kenya's post-election violence.
Kenyatta, Kenya's finance minister, is a member of the Kikuyu tribe, the country's largest, while former minister Ruto's powerbase consists of the ethnic Kalenjin, the only group besides the Kikuyu to have provided a Kenyan president.
One case groups Kenyatta, the country's richest man and son of Kenya's founding father Jomo Kenyatta, together with Francis Muthaura, who is civil service head and cabinet secretary, and Mohammed Hussein Ali, the former police commissioner.
They are accused of crimes against humanity, including murder, rape and persecution. The ICC says Kenyatta mobilised a local mafia-style Mungiki militia made up of his Kikuyu tribesmen to hit back at members of the Kalenjin tribe over violence in the Rift Valley targeting Kikuyu.
The other group consists of Ruto, a former higher education minister, Henry Kosgey, the former industrialisation minister, and Joshua arap Sang, the head of operations at Radio KASS FM.
All three are ethnic Kalenjin, and are accused of crimes against humanity, including murder and persecution.
Ruto is accused of plotting for years to drive President Mwai Kibaki's supporters out of farms and towns in the Rift Valley using a network of politicians, media representatives, financiers, tribal elders and former members of the security forces.
All six suspects appeared in The Hague for confirmation of charges hearings in 2011 - proceedings which were closely followed in Kenya - and all denied the accusations.
Support in Kenya for the ICC prosecutor's efforts to put the six men on trial in The Hague dropped to 54 percent earlier this month, from 59 percent in October, reflecting worries about the impact of the case on Kenya's stability.
Respondents who opposed it said they believed local courts should handle the trial or that they feared the process would divide Kenya. Those in favour saw it as the only way to ensure justice for the victims or prevent a repeat of the violence.
REUTERS