Protesters In Kano Defy Labour, Resume Street Protest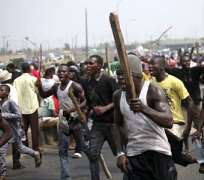 …State Security Operatives Invade CNN, BBC Offices In Lagos
KANO, January 16, (THEWILL) - Organized Labour and Civil Society Organizations in Kano Monday defied the directive of the National President of the Nigerian Labour Congress (NLC), Comrade Abdulwaheed Omar, as they resumed protests in the state against fuel price increase, even as the countrywide strike was called off around 1.pm today.
The NLC President had in a press conference earlier directed all workers and protesters to stay at home Monday, cancelling street protests and rallies, after it feared that miscreants and elements in opposition parties had hijacked the struggle to promote their hidden agendas.
THEWILL reports that late Monday morning, thousands of protesters in Kano took to the streets, as they gathered at Zaria Road, Naibawa, where they made burn fires and road blocks, with some miscreants. As at the time of filling this report, protesters were still on the streets, obstructing vehicular and human movement.
The Commissioner of Police, Ibrahim Idris had earlier told THEWILL in a telephone chat that he was shocked over the development, saying that the NLC Chairman in the state, Alhaji Isa Yunusa Danguguwa would be invited for interrogation.
The Police Commissioner on getting the information drafted a team of policemen to the scene to calm the situation.
As at the time of filling this report, Kano was calm as the volume of business activities remained low.
However, some Nigerians interviewed over the suspension of the national strike expressed happiness over the development and hoped that further negotiations between labour and Federal Government would yield better results.
Meanwhile, soldiers were deployed Monday in Lagos to enforce normalcy and calm after labour urged protesters to stay at home. They took positions at strategic points along busy roads and blocked the Gani Fawehinmi Park where protesters had gathered for 6 days in support of the protests.
In another development, security operatives from the Department of State Services (DSS) Monday raided the Lagos offices of the BBC and CNN in Lagos. Reports said the raid was to stop an 'offensive' report that the broadcast stations planned to air via satellite.