PREMIER RECEIVES BERLUSCONI HITS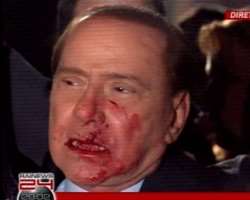 Italian Prime Minister Berlusconi
The Italian Prime Minister Berlusconi in Milan was beaten hard in the face by a man. That hit probably a souvenir. Berlusconi has a bruised nose and a leg wound in his lip. Surgery is not necessary.
The premier declined after the incident together, was quickly put into a car and a hospital. He is still one or two days stay.
Before he drove off Berlusconi showed his injuries to the public to see. The perpetrator was arrested. He was ten years been treated for psychological problems.