KESHI BLASTS PREMIER LEAGUE COACHES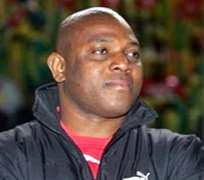 Keshi
Super Eagles' Head Coach, Stephen Okechukwu Keshi, has dismissed insinuations from Premier League coaches attributing their failure to win last week's league matches on the absence of their key players on national assignment with the home-based Super Eagles.
The former Nigerian international, who reacted to the coaches blaming him for their league results, argued in a chat with Daily Sunsports stressed that they have no justification to blame him the team's camp in Abuja recently, that if only three or four out of the registered 30 players were on national assignment, why can't the coaches use the rest players, asking what if they were injured.
'It would be wrong for the coaches to put the blame on me,' he started, adding; 'Yes, I know their feelings and understand what they were saying, but if they register 30 players in a league season, and we take two or three players, they should be able to prosecute a match with the other 25 or 26 players.
'If they heap the blame on me for taking the players what happens if the players were injured? Why would they put the blame on me? As I said, I understand their feelings, but if they cannot win a match with other 26 players, then there must be something wrong. I should even be worried like every other Nigerian that the coaches are not doing what they are supposed to do,' he quipped.
Meanwhile, the Eagles' gaffer said that though he was totally ignorant of the subject and politics of the removal of fuel subsidy, he did not think that grounding the nation would achieve any purpose. Pressed to speak on the burning issue, Keshi, reluctantly, said; 'I don't want to get involved into the politics of petroleum subsidy removal because it is not part of my job. My responsibility is to coach the players. I'm not a politician and will never be one, at least, for now. I don't really understand what they are saying about it. I have no knowledge about the subject and I cannot, therefore, say anything based on speculations.'
'The only thing I want to ask Nigerians to explain to me is, what we stand to gain if we shutdown everything, no electricity supply, no flight. Who really is the beneficiary if we ground everything to a halt? I want to, however, admit that I'm just curious about the situation,' he noted.