BIN LADEN AND GHADDAFI: MEN WHO LOVED DEATH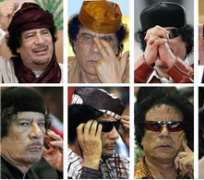 •Ghadaffi
Osama Bin Laden and Muammar Ghaddafi were two world figures that unleashed terror as they saw fit. Both were propelled by religious extremism and a pathological hatred of the Western world. By the time they died, or were killed six months apart, much of humanity jubilated that the world has been better off without them.
On Friday, August 7, 1998, staff of the American Embassies in two African countries, Kenya and Tanzania, had no inkling of the tragedy that was to befall many of them. It was a normal working day in the embassies; people coming and going, the staff themselves already looking with febrile anticipation towards what was to be a delightful weekend. Alas, it never got to be.
At precisely the same time, two car bombs went off in Nairobi and Dar es Salaam, capital cities of Kenya and Tanzania, respectively. Two hundred and twenty-four people were killed with several hundreds injured. It was the single most devastating attack in any African country short of an external invasion. At first, nobody claimed responsibility. But at the end of painstaking investigation by sleuths from four countries, they began to narrow down on one man: Osama Bin Laden, the arrow head of Al Qaeda.
Before then, Bin Laden had made his name in the war between Afghanistan and Russia. He fought bravely and earned the respect of his fellow Mujahideen rebels. Soon after, he turned his belligerent attention to America. What was his reason? From available records, Osama Bin Laden became America's sworn enemy because of what he described as desecration of the holy land when American soldiers poured into Saudi Arabia during the Kuwait-Iraq war. As one American reporter wrote at the time, Osama 'began agitating against the Saudi monarchy and the West.'
In no time, too, America declared Bin Laden 'the preeminent organizer and financier of international terrorism.' Almost immediately, too, the US put a ransom on his head for $5 million.
Ransom or no ransom, it didn't stop Bin Laden from his orchestrated campaign against the US, a campaign that culminated in the September 11, 2001 attacks on the twin towers of World Trade Centre in New York. At the site of Ground Zero, then sitting US president, George Walker Hebert Bush, swore that America will find whoever carried out the terror attacks. From then, Osama Bin Laden was as much in the sightline of the US as he also promised to carry out more devastating attacks on America. Though Bush could not find and kill Bin Laden, it was his successor, Barak Obama, who did on May 1 this year.
Unelected a month before the presidential election in America, Obama then an Illinois senator had responded to a question from a woman in the audience during the presidential debate.
'If we have Osama bin Laden in our sights and the Pakistani government is unable, or unwilling, to take them out, then I think that we have to act and we will take them out. We will kill bin Laden. We will crush Al Qaeda. That has to be our biggest national-security priority,' Obama confidently told the audience.
Obama lived to fulfill his promise when commandos from America's Navy SEALs stormed and killed Bin Laden in Abbottabad, less than 120 miles across the Pakistan border. It was the end of a gory chapter in the life of one of world's most evil terrorists.
Elsewhere in North Africa, the end of another terrorist was coming to a gradual close. Though his rank was never more than that of a colonel, Muammar El Ghaddafi, maintained his imperious authority over Libyans. Until the Arab Spring however, Ghaddafi had achieved notoriety for his state-sponsored terrorism.
From the day he stepped on English soil for military training, he showed his scorn for anything Western, perhaps as much as Bin Laden. Ghaddafi reportedly pretended he couldn't speak English so as not to relate with his English. On one occasion, he spat on the trainer. In the heydays of Arab terrorist groups, such as Black September, Ghaddafi was a noted financier. He also stood bravely by the Palestinian cause, and even sheltered some of the leaders. Ghaddafi's notoriety as a terrorist reached epic proportions when he supposedly sponsored the Lockerbie Pan American bombing in a town in Scotland.
In his later years as Libyan president, Ghaddafi had a makeover as a world terrorist. President Nicolas Sarkozy of France paid him a state visit. Ghaddafi himself paid the Lockerbie victims huge amounts of money. Former American Secretary of State, Condoleeza Rice, followed in Sakorzy's wake, not to mention dozens of notable American politicians who had come to embrace the Libyan leader as a new man as far as world terrorism was concerned. But Libyans themselves were not happy with their leader.
Two months before the Abbottabad raid, majority of Libyan citizenry had risen against their leader for more than 40 years, Muammar Ghaddafi. In what is now known in much of world as Arab Spring, starting from Tunisia to Egypt and still raging in Syria and Yemen and Bharain, Ghaddafi dismissed the rebels as rats and cockroaches that will soon be crushed by forces loyal to him.
For the more than 40 years he ruled Libya, the oil-rich country was more like his personal house. There were ministers that were never consulted. He ruled securely from the safety and comfort of his many Bedouin tents. His children and cronies lived expensive lives in their well-appointed mansions.
In a much publicized interview with Christiane Amanpour, she did suggest that Ghaddafi might not be popular with the majority of Libyans again. Amanpour didn't understand Libyans, Ghaddafi dismissed. 'All my people love me.'
With siege after siege and the Transitional Ruling Council overrunning Ghaddafi stronghold after other, it was clear those who loved Ghaddafi were clearly in the minority. On October 20 this year, Libyans publicly demonstrated their affection or lack thereof for Ghaddafi by killing him in his hometown. It was another gory end for a world renowned terrorist.