JJC to visit Nigeria this December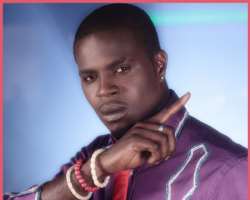 Nigerian-born and London-based songwriter/ rapper/ singer/ music & video producer JJC (aka Skillz) is about to undertake a long-awaited promo trip to Lagos, Nigeria, where he will be spending all of December to launch the "We Are Africans" movement, as well as promote Afro electro dance track "Jigi Lale", the second single and video from his forthcoming solo album, "United States of Africa".
JJC's recent single and video "We Are Africans" has within a short time attracted over 50,000 views on YouTube and almost 15,000 views on the influential American hip-hop site, as well as being playlisted on MTV Base Africa and being on heavy rotation on Nigezie, BEN TV and many other channels. Serious, but also fun, tongue-in-cheek and wildly infectious, "We Are Africans" is an anthem - in fact it can be labelled as the national anthem for the United States of Africa. It is a song for all Africans - from the motherland and from all parts of the Diaspora - which combines the sentiments of pride, unity and positivity. It will also be the perfect soundtrack for 2010, a year of huge importance for Africa: The world will be watching when the World Cup games take place in South Africa, and 17 African nations (including Africa's giant Nigeria) will be celebrating 50 years of independence. The phenomenal response to "We Are Africans" has lead to various remixes having been recorded in London, including the Africa On Your Street Remix featuring Tilla Man, Dola Billz, Millaz, Mo Eazy, Magnum and many more (see video link above), as well as a Funky House remix featuring award-winning UK-based Ghanaian rapper Sway.
JJC is now taking the "We Are Africans" movement back to the motherland - and what better place is there to start than his home country of Nigeria. Whilst in Lagos he will record what is to be called the "We Are Africans" Headliners Remix. This remix will feature the best talents Nigeria has to offer (more details to be announced shortly), and of course a video will be shot too, by none other than Big Boyz Entertainment, the production company, headed by JJC and Moe Money, that is fast emerging as a real powerhouse for quality and innovative videos (their production cache includes "Fokasibe" and "Bobbee FC" by DJ Zeez, "Karmakazee" and "Takerewa" by Olu Maintain feat. Kentro Family, "Omo 2 Sexy" by Justina, "Morile" by Bouqui, "Pu'yanga" by Tilla Man & Dola Billz, "Shake" by DK, "Why" by Jibola and "Anyhow" by Shakar El Swagga).
It is no exaggeration to say that JJC is not only a multifaceted, prolific and creative persona, but also a true pioneer of the Afro Pop music scene. He counts D'banj and Don Jazzy as his musical protégés, and under his alias Skillz, has produced a range of hits for Nigerian artists, including "Ijoya" by Weird MC, "Pu'yanga" by Tilla Man & Dola Billz, "No dull yourself" by MP and "Why" by Jibola. JJC first rose to fame when he formed Sony Music act Big Brovaz (their first single "Nu Flow" was a worldwide hit) and he then went on to produce for Lemar, Jamelia, Ginuwine, Liberty X, Booty Luv and many others. Alongside these mainstream production credentials, he created pioneering Afropean group JJC & 419 Squad, where he was the producer, songwriter and main vocalist. JJC & 419 Squad, whose hit songs included "Gbao", "Atide" and "Kilonsele", broke new ground with their fresh mix of hip-hop and African flavours, with lyrics in Pidgin, Yoruba and English. The group uniquely managed to reach out to European as well Nigerian audiences, and they performed at countless events, including major festivals such as WOMAD in the UK (the biggest World Music festival in the world) and also at MTV Base Africa's launch concert in Abuja, alongside Ludacris, 2-Face and Asa. Their music was used in Oscar-nominated films (Stephen Frears' Dirty Pretty Things) and on mainstream TV (Channel 4's drama Stealing Lives) and tracks were included on internationally released CD compilations. JJC & 419 Squad picked up a number of awards, too, such as the 2004 Kora award for 'Best African Group'. More recently JJC has won the '2009 Best UK-based African Act' trophy at both the African Music Awards and the BEFFTA Awards.
Whilst in Nigeria this December, JJC will also perform at various events, such as the Ovation International Red Carol on 18 December, the Dynamix All Youth Awards on 21 December and Silverbird's Rhythm Unplugged on 26 December. About his trip JJC says: "I am excited to be returning to Lagos. It's been four years since I have last been – too long! – and there's no better time to be in Nigeria than December. I have been busy recording my forthcoming solo album and shooting videos. I am now so excited to be launching the material in Nigeria, and also to introduce the "We Are Africans" movement. I can't wait to get on stage in Nigeria and hear my Nigerian brothers and sisters give me a loud 'Awooo!!'."
Story by http://nollywoodgists.com