DELEGATES STORM KADUNA FOR NFF GENERAL ASSEMBLY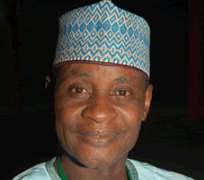 Maigari
Delegates to the 67th Annual General Assembly (AGM) of the Nigeria Football Federation (NFF) stormed Kaduna State (Centre of Learning) yesterday (Wednesday), ahead of today's event scheduled for the Royal Tropicana Suites on Isa Kaita Road in the famous city.
FA Chairmen from 35 States of the Federation and the FCT (Yobe State has no FA Chairman presently) and FA Secretaries from the 36 States of the Federation and the FCT arrived in Kaduna for the big occasion, where activities of Nigeria football in the outgoing year will be reviewed and decisions would be made for the running of the game in the country in the coming year.
Members of the NFF's Executive Committee, led by the President, Alhaji Aminu Maigari, arrived ahead of the FA Chairmen and Secretaries. Maigari and several members of the Executive Committee arrived on Tuesday afternoon, while the remaining members of the Exco arrived yesterday morning.
Maigari said: 'We are happy to be here in Kaduna for this our Annual General Assembly. The Government and good people of Kaduna State have welcomed us very well and we have faith that we are safe and secure in this town.
'We are also looking forward to the General Assembly. It is going to be very serious business,' said Maigari.
Also in town are NFF 1st Vice President, Chief Mike Umeh, 2nd Vice President and Chairman of the Nigeria Premier League, Chief Rumson Baribote, Executive Committee members Barrister Chris Green, Chief Effiong Johnson, Barrister Olaleye Adepoju, Alhaji Ahmed Yusuf Fresh, Mr. Ayodeji Tinubu, Dr. Shehu Adamu, Alhaji Muazu Suleyman, Chief Felix Anyansi-Agwu, Chief (Mrs.) Dilichukwu Onyedinma, Alhaji Ahmed Muazu Kawu, Chief Emeka Inyama and Hon. Suleiman Yahaya Kwande.
There are also NFF General Secretary, Barrister Musa Amadu, Director of Technical, Dr. Emmanuel Ikpeme, Director of Competitions, Dr. Mohammed Sanusi, Director of Marketing, Mr. Idris Adama, Director of Finance, Mr. Jarafu Mamza and other top officials.
Director General of the National Sports Commission (NSC), Chief Patrick Ekeji will deliver the address of the Honourable Minister/Chairman of the NSC, Alhaji Bolaji Abdullahi, who is away in the United Kingdom.
Thursday's 67th Annual General Assembly of the Nigeria Football Federation will start by 10am.
Download Application form http://www.nigerianbestforum.com/index.php?action=dlattach;topic=148429.0;attach=20960