STOP MAKING COACHES SCAPEGOATS – SINCLAIR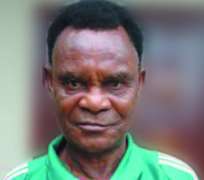 The outgoing year has been anything but successful for Nigeria in the game of football with many trading blames for the nation's circle of failures in the international football milieu.
But Veteran coach, Monday Sinclair has advised Nigerians, particularly, football stakeholders to accept the situation with stoic philosophical equanimity saying that Nigerian football is only going through a normal transformation.
'What is happening to Nigeria has happened to other countries in the past and should not come to us as a surprise because football results could be mere accident of history' he began in a chat with Saturday Sunsports in Yenagoa, Bayelsa State recently.
'Our problem is that we want to win every time but every thing goes with time. There is a time you produce a team of good footballers and good results. And there comes a time another team emerges and it would not produce good results' he went on.
The former Green Eagles tactician would not join in the band wagon in the seeming blame trading over who should be blamed for the nation's football woes.
'I think that football is a seasonal game. I still have confidence in those that are in charge of our football. I believe they are capable. Besides, in the game of football, that element of luck is always there. It's a game that everybody aspires to be the best.
I don't want to blame the coaches. In Nigeria, it is always easy to blame coaches whenever the team fails. The coaches do their jobs. For instance, you teach a player how to take penalties and he fails to score, is that the coach's fault? As a coach, you cannot go into the pitch and play.`'
Sinclair stated that it is one thing for a coach to do his job and another thing for the players to get the job done when the chips are down in a real match situation.
'One thing followers of the game and even the administrators have failed to realize is that the players can go into the pitch and fail to play to instruction. Players have the freedom to do whatever they like on the field and most times before a coach will realize it the game is won and lost.'
On the way forward, Sinclair urged the nation's soccer governing body to learn from the mistakes that saw Nigeria failing to qualify for the Nations Cup and other major competitions.
'We need to find out where we got things wrong and do the necessary adjustments. I believe we can bounce back to reckoning if we return to the drawing board in the real sense of the word and not just on paper.'