PIRACY CAN BE CURBED!- Alabi Yellow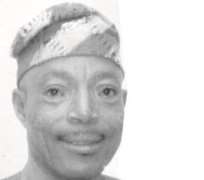 Even at 54, Evangelist Oludayo Samuel Akinpelu, also known as Alabi Yellow by movie fans, could be described as a veteran in the entertainment industry, having put in over three decades of active service.
The fair-complexioned thespian from the popular Olowobusanbusan family of Ikorudu, Lagos State in this interview with Akin Sokoya talked about piracy, a cankerworm that has eaten deep into the entertainment industry and proffered solutions. The Eje Afin actor also talked about his new works. Excerpts.
When did you become an evangelist?
I was ordained in my church some years back but at the same time it's good for one to rediscover oneself. And don't forget that just as pastors and Imams teach people how to live a good life, so do we actors, through our plays and movies. We even get across more to people than they do. Through inspiration, a theatre practitioner could write a play that would affect the lives of millions of people. Our movies are now everywhere all over the world. So, actors are more or less evangelists. I'm also a leader in the church, the Celestial Church of Christ. My late father, who was the younger brother of Olowobusanbusan used to be a Muslim, but he wasn't really convinced about the religion, so he converted to Christianity. We were all attending Methodist Church, Ita Elewa, Ikorodu.
Little or nothing has been heard about you in recent time; could you tell us what you've been doing?
With the way things are these days, one has to be very careful about releasing anything into the market, so as to avoid working like an elephant and eating like an ant. The cost of movie production has gone higher than it used to be. Really, that calls for caution, especially now that four or five movies are packed into one CD by movie pirates.
Another thing I've come to realize is that if there's no adequate security on our creative efforts, they tend to become exercise in futility. Piracy has eaten deep into the Nigerian entertainment industry. As you already know, musicians no longer rely on sales made on cassettes and CDs but on shows.
Piracy has for long thrived in the industry. A school of thought even believes that it helps creative works to get more popular. There seems to be nothing anyone can do about piracy for now. Don't you think so?
I don't believe that, sometime ago, I travelled to Cote D'Ivoire for a mutual trade deal on movie, which I thought could serve as an exchange programme between us and our counterparts over there. But I was shocked to my bone marrow when I got there and discovered that they were not into movie production. And more shocking is the fact that their market is dominated by Nigerian movies and music. Not just that, each CD going into the market, either movie or music must bear a hologram issued by their government as if it was produced there. Interestingly, the way Indian films are boosting the economy of India, is now the way the films are boosting Cote D'Ivoire's economy. And they're so strict about it that you could hardly find any CD or cassette in the market without a hologram. It's indeed a serious offence for anyone to push items into the market without holograms because they're a big revenue earner over there. There's even a special security agency known as Burunda in Cote D'Ivoire, whose duty is to go to the market and video clubs in search of offenders. I think the Nigerian Government can introduce such into our market here which has virtually become a dumping ground for all kinds of artistic works.
Already, there's an agency saddled with this responsibility?
This actually is the responsibility of the Nigerian Copyrights Commission but they don't seem to be putting their acts together. If there's no security on audio or video CDs produced in Nigeria, how do we then make money exporting them?
What the Cote D'Ivoire Government is doing, is more or less, an usurpation, which I think the Nigerian Government should challenge by asking for dues on those products. These dues, if properly channeled would go a long way in creating an enabling environment for players in the entertainment industry who have long been neglected by the government.
In fact, the piracy problem we're facing in the entertainment industry is due to the lack of security on our works. That's why I want to implore the Honourable Minister of Information and Communications to come to our rescue. It's a war we must win to enable the industry move forward and boost the economy of our great nation. And as the second biggest movie producing nation in the world, we have so much at stake on this mission.
Are you involved in any other business aside theatre and movie?
I'm also an author. My book, 'Abokoku' has been in use as a textbook for JSS 1 and 2 in Yoruba-speaking states in the past 11 years. It was adopted recently by the Lagos State Government.
That's big money for you, isn't it?
The money goes to the publishers, I receive royalty annually. I'm satisfied with the arrangement. However, I'm planning to turn it into movie and even sub-title it in French to take it beyond the shores of the country.
Why don't you produce movies regularly as it's the practice in Yoruba sector of the movie industry?
Well, I don't have any grudge against those who do it. The cost of living is so high and they must survive. I have a name and integrity to protect. A creative mind and a business mind are not the same but that's not to say one doesn't apply business sense to his creativity. I produced Atitebi three years ago, it was sold by Highwaves. I've just finished work on 'Adigun Bilisi', which features Lere Paimo, Liz Anjorin, Jide Alabi, Laja Ogunde and Muyiwa Adeleke (Londoner). And it would be out as soon as I get a good marketer.