Mancini - Cole Sparked Spat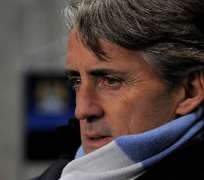 ...City boss suggests Chelsea full-back was at the centre of tunnel row
Roberto Mancini has suggested that Ashley Cole was at the centre of the tunnel row that followed Manchester City's 2-1 defeat by Chelsea on Monday.
As both sets of players headed off the field at the end of an encounter that brought City's unbeaten start to the season to an abrupt halt, calm appeared to have been restored.
Tempers had frayed during the Stamford Bridge contest, with City seeing French full-back Gael Clichy shown a second-half red card.
The visitors felt they had been wronged by the match officials, with big decisions going against them at crucial times.
The underlying tension finally boiled over in the tunnel, with pushing and shoving breaking out as voices were raised.
Mancini claims Chelsea defender Cole sparked the row, but Blues boss Andre Villas-Boas has defended the actions of his player.
Row
When asked what had happened, Mancini said: "I don't know if Cole said something.
"I don't know what he said. I don't understand."
Of more concern to the City boss were a succession of decisions he felt had gone against his side, leading to their first Premier League defeat of the season.
Mario Balotelli put the league leaders in front after less than two minutes, however, referee Mark Clattenburg missed what appeared to be a clear foul in the penalty area on David Silva by Jose Bosingwa.
Changed
He then sent off Clichy - City's third red card in six Premier League games - before awarding the home side a spot-kick eight minutes from time when Daniel Sturridge's piledriver struck Joleon Lescott on the arm.
"I agree with all of his decisions," said Mancini, with more than a hint of sarcasm.
"There was a big penalty. There wasn't a fan inside the stadium who didn't see it. But the referee was very close and he didn't.
"I don't know (about Chelsea's penalty).
"The Chelsea player shot very hard from five or six metres. It is difficult for the defender. But, at that moment, the referee was really sure.
"It was after the sending-off that the game totally changed."
SKY SPORTS