H.BENSON SET TO RELEASE A NEW GOSPEL ALBUM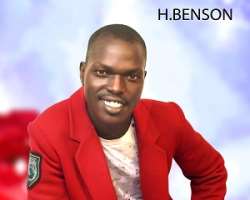 Another Gospel artiste by name H.Benson has put all arrangement in place to launch his new release, a gospel album come Saturday 21st, November, 2009 by 12.00 noon at NAFRC Base Barrack, Opposite Charity Bus-Stop, Sergeant/ Warrant Officers Mess, Oshodi, Lagos.
Benson, who hails from Adamawa State, mbula tribe precisely, started his musical sojourn as a little boy in Sokoto State in the then choir when his father was the choirmaster. It did not take long for him to discover that he cannot only sing song but that he can write song and play musical instrument. " My father encouraged me a lot and he was the inspiration that has kept this dream alive till date, maybe, because he was a former choirmaster and I owe that to him I finally came to Lagos in the year 2000 and since then I have continued my musical career. To God be the glory, my 1st gospel musical album shall be launched amidst fun fare and support from other artistes. I won't say more than that, don't just miss and it will be a fun filled event to glorify God", the dark complexioned artiste averred.
The album, a 7 tracks package with the hit song " I love Jesus" whose video is gradually getting the deserved media attention and visibility, is expected to lift souls and enliven broken spirit, it is full of different styles of songs which further buttresses the fact that the bony looking artiste is a versatile and multi-talented one.
The event coordinator, Justin Dirma said that we are bringing some gospel artistes and comedians to support and praise God with us. "Artistes and dance group billed to perform that day are Vicker, Seun Bello, Asiwaju (Fuji Gospel), Lanre, H.O, D'Ages, Bro. Peter Babadiya, Unique Steppers as comedy will be supplied by St.Ukpabi, Apostle P.K, Merry Heart amidst many others. This is an artiste to watch out for from now on and that is why we are part of this dream to make it big and make impact in the society" he submits.
The event is put together by Red Page Music, supported by Press Hall Ltd, Artistes Zone and others.

Alayande Stephen T.
Media Anchor.
Development / Accra / Ghana / Africa / Modernghana.com