TOP ACTRESS FUNKE AKINDELE OPENS UP ABOUT KLIN DETERGENT DEAL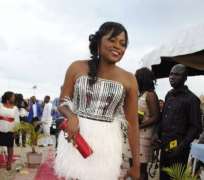 Multi talented actress Funke Akindele popularly known as Jenifa is not resting on her oars but rather she's moving from grace to grace.
The actress who has been in the entertainment industry for some time now started her movie career with " I Need To Know", a sitcom which was common back in the days before moving on to movies which has now become her selling point.
Last week, a new commercial of 'So Klin' detergent was unveiled to members of the press by Eko Supreme which featured Funke Akindele as the lead character.
The commercial is a promotional tool for the scratch and win promo by Eko Supreme.
In a recent interview,Funke opens up about her endorsement I feel happy that I was called to endorse the promo.50 people are to win N15 million aside the consolation prizes.
So Klin,good mama.So Klin protects,it's a good product and it's all over the market.I make use of the product,it's also a plus for me.
They felt I am synonymous with success and they know that I can cut across the people since I am doing well and people are ever ready to listen to Funke Akindele.
My role is to present award to the winner of So Klin,then welcome the new millionaires to the team.Also for commercials.
Being a celebrity attracts a lot of things,things don't come easy.There are lots of ups and downs but the good news is after your hard work,you begin to enjoy the good things that come out of it.Then,you become public figure and people get to respect you.
What have learnt about success is that you can never please everybody,so all you have to do is be yourself.Always make yourself happy and never mind what people say about you.Always make good use of the opportunity that comes your way.
It is not easy to manage success,there are a lot of people who are waiting for your downfall.With God all things are possible.Always be natural and be positive.
Asked,some guys are scared of women who are more successful than them,don't you think guys will be scared of you;she responded No ! As for me,I believe that was then.No guy wants a liability.
They rather encourage their women and also support every effort they make.Except you want to be a gold digger.Behind every successful woman there is a man.