JEGA CONFESSES, SAYS 2011 POLLS NOT PERFECT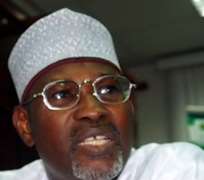 For the first time after the 2011 general election, Chairman of the Independent National Electoral Commission (INEC), Professor Attahiru Jega has admitted that the April polls were not perfect. He said that the task of delivering elections that are transparent and credible in Nigeria was a Herculean one in view of the nation's pedigree, context and deprivation.
Professor Jega who gave the confession in his keynote address at a two-day national retreat for INEC Public Affairs Officers (POAs) held in Kaduna yesterday was, however, quick to say that the new INEC under his leadership as confirmed by reports of local and international observers, raised the bar in terms of delivering free, fair and credible elections in this country.
Represented by the Information and Publicity Committee (IPC) Chairman of the commission, Prince Solomon Adedeji Soyebi, Jega said, 'The 2011 general elections were however not perfect and there is tremendous scope for improvement.'
The nation's electoral umpire chairman therefore charged the PAOs to point out the lapses of past elections and suggest how such lapses can be corrected to meet the aspirations of Nigerians for free, fair, transparent and credible elections, saying that, 'this retreat is meant to provide an unfettered and unhindered opportunity for you to deliver this mandate.'
He, however, urged them to continue to communicate the commission's resolve to all stakeholders and persuade them to subscribe to it, even as he warned that, 'you must let the world know in clear terms that at the new INEC, it is no longer business as usual and that henceforth, the commission would conduct itself strictly by the rules that govern the electoral process.
'You should continue to articulate succinctly, the mantra of the commission which is to deliver the fairest and most credible elections in the history of Nigeria. Let the world know of our vision to be one of the best Elections Management Bodies (EMBs) in Africa,' Jega added.
The INEC boss further stressed, 'This is not an idle vision or wishful thinking as the commission has embarked on a re-organization and restructuring exercise with a view to repositioning itself to ensure much better service delivery.'