THE WORLD'S FIRST HAPPIEST BEINGS ON EARTH ARE AFRIKANS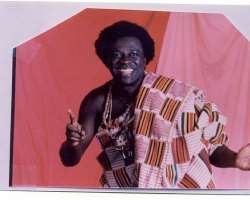 THE WORLD'S FIRST HAPPIEST HUMAN BEINGS ON EARTH ARE AFRIKANS OR HOW TOTAL HAPPINESS FROM WITHIN FOR ALL HUMAN BEINGS IS NOT A MYTH BUT A RIGHT FOR ALL ONCE WE LEARN HOW , c) 2011 by Prof. Afrikadzata Deku, Docteur d'Etat; Doctorat d'Etat (PhD); DESS (M.Phil); M.Sc.; DIPLOME de l'IIAP, (Post-Grad.Dipl ;); BA Double HONS etc, Founder, AFRIKAMAWU MIRACLE MISSION, AMI INC; [email protected],
1. You do not have to be unhappy in life.
2. It is not true that you cannot be Totally Happy and Fulfilled Now and Always in Life.
3. Total Happiness for all Creation in Life is the Divine Birthright of all lives.
4. In fact, it is your Divine Mission, Right, Duty and Responsibility to know and achieve on a regular basis Total Happiness and Fulfillment for yourself and others.
5. For, to make others happy, you must first learn and know how to make and keep yourself happy because you cannot give or share what you do not have with others.
6. Making others happy begins with yourself for Total Happiness for you is the happiness for all.
7. A hoarded happiness is no happiness but a curse.
8. A shared Happiness is the true happiness that lives for ever.
9. That is why to Children of Mother Continental Afrika, as the World's first Inventors of the Idea, Concept and Practice of Total Happiness and Fulfillment for all lives on Earth, every Group of Life must be free to define and practise Total Happiness from his/her own Perspective based on his/her own Culture and Values.
10. Alien concepts and practices of Happiness imposed on today's Afrikans to adopt and practise for their doom in Self-ignorance can only be a curse and not happiness to them.
11. Alien concepts and practices of Partial and fleeting Happiness can only keep today's Afrikans ignorant of and dead to their own Continental Afrikan-Made and oriented Concept and Practice of Total Happiness of all Continental Afrikans, by all Continental Afrikans and for all Continental Afrikans.
12. This awareness of Total Happiness Now and Always for all Creation enables children of MAMAAFRIKA to make sure that they always choose to be and remain constantly the Positive Universal Creators, Masters and Controllers of their own created Happiness which they practise for their own benefits.
13. In the same way, true Happiness is not getting this or that in life.
14. For, the more you get, the more you want.
15. And the more you want, the more struggling, chasing, grabbing, hoarding, selfish, ego-centric, greedy, restless, tense, stressful and anxious you become and the less happy you make yourself and others around you.
16. That is why, Children of MAMAAFRIKA never base their Total Happiness on endless acquisitions of material things that they know will never be enough to satisfy them let alone make them happy.
17. By constantly tuning themselves to the Spirit of the True Total Happiness within them, they are able to know and differentiate between the Blessings of Total and Permanent Happiness to have, enjoy and share for Life and the curse of partial, fleeting and false happiness to avoid at all cost.
18. Far from seeing their material possessions as an end in themselves, Children of MAMAAFRIKA see them as a means to the Positive Spirit of their Total Happiness on Earth and hereafter.
19. Material possessions, in this way, do not become to them a mini Deity to be worshipped or to become slaves to.
20. For, no matter what happens, they know they are the Creators, Masters and Controllers of their Inner and outer Wealth, Riches, Prosperity and Happiness in Life.
21. Furthermore, the daily Positive Attunement of Children of MAMAAFRIKA to the Source of Total Happiness within them also makes them to know that the True Total and Permanent Happiness cannot be found outside but Inside them.
22. The Kingdom of Total Happiness, Wealth, Health, Wisdom and all the best things of the Universe are Within and not outside them.
23. That, it is only they as a People and not any outside forces can make them happy or unhappy.
24. Nobody except themselves can make themselves Totally or partially happy.
25. This Internal Daily Revelation about the True Nature of Happiness makes Children of MAMAAFRIKA to concentrate themselves, their time, energy and expertise in making themselves happy as the surest way of making others happy.
26. They know, true Total Happiness in Life is like a Farm that must constantly be cared for, for the best Fruits or Harvest they want and deserve or they will lose it to weeds of all kinds and denominations.
27. So, instead of searching for short-lived and partial happiness outside them, Children of MAMAAFRIKA go inside their Inner Holy Temple of Happiness for the Positive Fruits of Eternal and Total Happiness that wither not.
28. All because, they know, the more they stay in tune to the immortal seedling of everlasting Happiness within them, the more they guarantee themselves the real Happiness that Nobody or nothing can rob them of.
29. Hence to them, the True Happiness is not Flesh or outside created and based happiness that is left behind after Death or what flies through the window in time of temporary setbacks but it is the Eternal Companion of Life that is always theirs with or without the world's drawbacks.
30. Living is total Happiness when you live in tune to the Limitless Power, Energy and Spirit of Total Happiness and Fulfillment within you.
31. Chronic surviving or struggling in Life cannot be Happiness but hell.
32. Living out of tune to Total Happiness can only yield you total unhappiness which is a negative way of life based on lack of Positive Self-knowledge characterized by chronic man-made self-ignorance, self-hatred, self-rejection, low moral, lack of motivation, low self-image, negative self-esteem, lack of faith, love, respect, belief and confidence in yourself and others.
Source : Extract from the world's First AFRIKAHOLYBIBLE, Chapter 41, 1-79 which you can purchase online for the Whole AfrikaMiracle Story of How Ancient/Traditional Continental Afrikans Performed the World's First Unthinkable and Unheard of MIRACLES upon Miracles when they lived in Tune to the Limitless Power of their Mind, Spirit, Ancestral and Divine Power of AFRIKAMAWU within them . Email us for more details :
By COPYRIGHT (2011) Prof Afrikadzata Deku, Docteur d'Etat, PhD; *Doctorat d'Etat (Ph.D.) * D.E.S.S. (M. Phil) * Diplome De L' I.I.A.P.(Post-Grad. Dipl.) * M.Sc. * BA. Double Majors *
Emails: [email protected] ; [email protected]; [email protected]; [email protected]; ; [email protected], [email protected]
*SKYPE : AFRIKAPHARAOH or AFRIKAFIAGA or WindowsLiveID: AFRIKAPHARAOH* ;
*URLS: http://www.youtube.com/profafrikadzatadeku ; https://skydrive.live.com/redir.aspx?cid=4d3310fc746b4eaf&page=play&resid=4D3310FC746B4EAF%21107, http://www.myspace.com/profafrikadzatadeku; http://afrikacentricitybooks.blogspot.com/
Disclaimer:

"The views/contents expressed in this article are the sole responsibility of the author(s) and do not necessarily reflect those of The Nigerian Voice. The Nigerian Voice will not be responsible or liable for any inaccurate or incorrect statements contained in this article."
Articles by Prof Afrikadzata Deku