Akwa Ibom Budgets N397.141B For 2012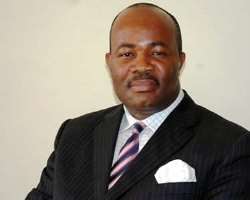 GOVERNOR OF AKWA IBOM STATE, CHIEF GODSWILL AKPABIO
UYO, December 6, (THEWILL) – The Governor of Akwa Ibom State, Chief Godswill Akpabio Tuesday presented a budget proposal of N397.141 billion to the State House of Assembly for consideration for the 2012 fiscal year.
A breakdown of the budget shows that N66.244 billion and N330.897 billion are for recurrent and capital expenditure respectively, while the projected recurrent revenue amounts to N263.777 billion representing a 5% decrease from the 2011 budget.
The proposed revenue for the budget according to the governor consists of an Internally generated revenue (IGR) of N21.646bn, N36bn from statutory allocation, and N200.132bn from the derivation fund and N6bn from value added tax (VAT).
Tagged "Budget of Industrialization" Akpabio maintained that the 2012 budget will be a veritable tool for the realization of the industrialization agenda of his second term administration and will be used to enhance the economic growth as well as sustain the pace of development in the state.
Akpabio explained that the policy thrust of the budget was principally to enhance the standard of living of the people even as it would strengthen the on-going economic and infrastructural development in the State.
"The preparation of the 2012 budget is informed by the need to consolidate on the gains so far achieved, and the determination to complete ongoing projects as well as programmes which were started by this administration.
"This budget will also set parameters for future action in a manner that will enhance socio-economic transformation in the health, education, infrastructure, agriculture, and commerce and industry sectors and by extension accelerate the political, industrial and cultural development of the state.
"The policy thrust of the 2012 budget is predicated on continuous transformation of Akwa Ibom State through a multi-sectoral approach in order to increase productivity, generate more employment opportunities, reduce poverty, create wealth, empower the youths and women and enhance the socio-economic welfare of our people," Akpabio stated.
The governor however urged the House to cooperate with the state government by giving the proposed budget a timely approval for the progress and development of the state.
Speaker of the State House of Assembly, Hon. Sam Ikon assured the governor that the House would give the needed speed for the consideration of the proposed budget as the administration had not been found wanting in any aspect in the last four and half years.