AFTER 10 YEARS OF DATING; SOCCER STAR UCHE IKECHUKWU DUMPS UCHE JOMBO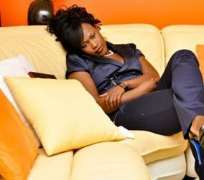 These are definitely not the best of times for Nollywood star actress,Uche Jombo as we gathered that her longtime boyfriend, Nigerian born International football player, Uche Ikechukwu dumps her.
Since they started dating, Ikechukwu maintained a shy attitude about their relationship.
Months back, the news about their wedding preparations was all over town.Sources said Uche Ikechukwu proposed with a diamond engagement ring that Uche Jombo was showing off at every slightest opportunity.
But with the latest development,it seems the love these two people once shared has now gone sour.
We gathered that the sultry actress no longer wears the diamond engagement ring Ikechukwu gave to her.
Close sources claimed the break-up was amicable, but friends said Miss Jombo was 'heartbroken and bitter'.
Ikechukwu's friend who spoke on condition of anonymity,said ;You don't need a soothsayer to know that their relationship isn't going anywhere.Ikechukwu was just catching fun, he had no intention of getting caught up in something serious. Although at some point, he seemed really madly in love with Jombo but now is the time to move on.He has better plans ahead and wants the best for himself the source said.
Latest news also indicated that Uche Ikechukwu and his brother,Kalu Uche were seen at a club in Abuja recently and they had a nice time with ladies swarming around them.
click the link below to go to...
ACTRESS UCHE JUMBO FINALLY HOOKS SUPER EAGLES STAR IKECHUKWU UCHE.
Uche Jumbo set to wed footballer boyfriend? .
Footballer Ikechukwu Uche and actress Uche Jombo.
Actress Uche Jombo screams''my boyfriend is a power house''! .