EXPLOITATIVE FARES: FG SETS UP PANEL TO APPRAISE $235M FINE AGAINST BA, VAA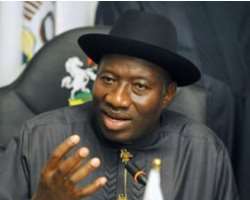 • Jonathan
The last may not have been heard of the British Airways (BA) and Virgin Atlantic Airways (VAA) price-fixing imbroglio as the Federal Government, at the weekend, constituted an administrative appeal panel to appraise the $235 million fine slammed the two UK carriers, which they vehemently reject.
The Panel, chaired by retired Justice G. A. Oguntade of the Supreme Court of Nigeria, is to look into the objections being raised by BA and VAA, who have challenged the Nigerian Civil Aviation Authority (NCAA)'s finding and subsequent imposition of penalties, including payment of $235 million total in fines.
According to the Spokesman of the NCAA, Sam Adurogboye, other members of the panel are Dr. Folarin Gbadebo-Smith, a respected and accomplished administrator, graduate of public policy from Harvard's Kennedy School of Government and international businessman, who is conversant with business processes and international issues of this nature; Alhaji Bala Ibn NaAllah, the Sarkin Shanun Zuru of Zuru, Kebbi State who is an accomplished lawyer, skilled pilot and former member of the House of Representatives who served on the Aviation Committee and Rt. Honourable Barrister KGB Oguakwa, a lawyer and former ranking member of the House of Representative who served as Chairman, House Committee on Aviation and also the House Committee on Tourism and Culture. Barrister Callistus E. Uwakwe, a senior lawyer and author of Introduction to Civil Aviation Law in Nigeria will serve as Secretary on the Panel
"This Panel will deliberate and consider the legality and fairness of NCAA's Investigation, Report and Findings with respect to the investigation into BA and VAA's collusion, deceptive, unfair and anti-competitive practices especially with respect to the Passenger Fuel Surcharge. The NCAA is determined to vigorously defend the rights of Nigerian consumers and ensure an industry that encourages and rewards fair, open and acceptable business practices and ethics while discouraging and penalizing any conduct that violates the law, disregards Nigerians and Nigeria, discriminates against and exploits or takes undue advantage of our people.
The Civil Aviation Act, Regulations as well as our other laws in Nigeria respect the rights of all parties and operators in our economy. This step is a further confirmation of that. While the NCAA again stands by the quality of its investigation, this is another opportunity for operators to see the methodical, dispassionate, fair, open and confident manner in which the NCAA carries out its functions, he explained.
Adurogboye further stressed that the panel is made of very distinguished, respected and accomplished professionals whose reputation and demonstrated contribution in their fields are not only outstanding but also apparent.