A Woman Needs To Be Focused Or Else...Ayanbinrin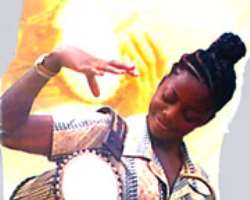 The chances are slim that you will see Ayanbinrin in the market or the street sides of Lagos, all by herself, engaging in mundane talks. No! She won't be caught in an unguarded situation, or something unbefitting of a 'star.' But in the last two years, Tosin Olakanye has come to typify superstardom in the real sense of the word, at least by the Nigerian standard.
She goes about chauffeur-driven, with scores of private guards always in her entourage. Her dressing is usually colourful, magnificent and eye-catching. TOPE OLUKOLE caught up with her and she revealed the motive behind her rebrand and new look.
Beginning
"In search of a way of making my kind of music unique and rhythmic, I learnt the rudiments of drumming in 2003; although the blood that runs down my spine is that of a drummer from history. My paternal grandmother comes from the family where drumming is a profession, and except for my late grandmother who did not take delight in drumming, her brother did. With this, my grandma's immediate kid brother was the leader of the association of talking drummers back in their days in Ondo town.
So, the art has made me a performer, especially the talking drum, and Iya ilu that I play has attracted lots and lots of people to me, with concert in places around Nigeria and beyond."
Her Art
"My musical art exhibits a typical African theatrical fashion, which expresses a blend of olden days folk songs and new to suit this modern age without losing its mellifluous delight and originality. Few artistes have been as passionate about the invention, development and popularisation of African music which has been relegated to the background; I dig the root with my creativity in Ijala and Bata choreographed dance steps, thereby bringing into remembrance African traditional values and heritage.
I play cool African rhythms; while my vocal prowess is not only melodious but the lyrics of the songs I compose dwell on love, tales, unity. It is infectious for it echoes African cultural history. The zeal for culture has raised hope to a height beyond imagination because I believe in proven success, and I am determined to climb every mountain, search high and low, follow every hill till my dream as the highly rated musicians in the history of Africa becomes a reality.
My lyrics speak to humanity, so that everyone, everywhere will be able to feel it. I aim to make Africa proud. None of the great African artistes out there like Sade Adu, for instance, was groomed in Africa. As such, they cannot really project African values. I want to be the first home grown African artiste that would make such a telling impact as to make people look up and regard African culture and accept it for what it really is."
Her New Look
"This is part of the rebranding going on in the band in the last two years. No man is an island; we are moving with the trend of events in the music industry. It is a total rebranding. We are projecting what we preach with our music; this is just the beginning."
No doubt you are naturally endowed...
How?
I mean, your 'top' is heavy, same with the back.
"The boobs are part of the repackaging and the lower part is natural and it is hereditary. Just wait for sometime to come. I will flaunt both in the undiluted Africa music album that I will release very soon. If you have it, flaunt it, especially when both command attention. What is wrong in that? It is showbiz.
What about attention from the opposite sex?
Very many, uncountable, but a woman needs to be focused; otherwise you will become a table tennis being played around.
Story by http://nollywoodgists.com