Exclusive: London Prosecution Not Home Yet On Ibori, Changes Strategy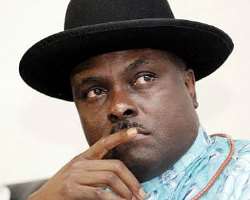 CHIEF JAMES ONANEFE IBORI
…Wants Count 1 Dropped, Opts For Separate Trial Over V-Mobile Matter
SAN FRANCISCO, November 28, (THEWILL) - The London prosecution in the trial of Chief James Onanefe Ibori is still tinkering with the charge sheet filed against the detained Nigerian politician after they were advised during one of the pretrial hearings by now retired Southwark Crown Court Judge Christopher Robert Hurst Hardy, who said that he wasn't convinced the State could prove its money laundering charge beyond reasonable doubt with the lengthy criminal indictment brought against Ibori, which hovered around theft and laundering of funds belonging to Delta State.
Recall that Judge Christopher Hardy (72), who retired from the Circuit Court on June 15, 2011, was judge who presided over the trials of associates of Chief Ibori namely: Christine Omatie Ibie-Ibori, Udoamaka Onuigbo nee Okoronkwo, Nkoyo Nakanda-Ibori and Bhadresh Gohil. They were convicted and sentenced to various jail terms.
The prosecution had slammed a 25-count indictment on the former governor of oil-rich Delta State, who is in a London prison awaiting the commencement of his trial.
THEWILL gathered from very reliable court sources that prosecution led by Sasha Walsh QC was advised that the State would need hard evidence to prove its theft and money laundering charge against Ibori having mainly relied on inference in the conviction of his associates.
Prosecution was also advised to concentrate on charges it felt were committed within its jurisdiction which prompted the decision to abandon most of the charges it had filed courtesy of the Metropolitan Police collaboration with the Economic and Financial Crimes Commission (EFCC) under Mallam Nuhu Ribadu.
However, following the complexities and uphill task involved in proving that Ibori conspired alongside his sister Christine and mistress Udoamaka to defraud the Delta State Government of Nigeria, prosecution is now convinced that it may be unable to successfully achieve that, so in order to save the case it is seeking to expunge count 1 from the indictment, THEWILL can exclusively report.
Prosecution fears that if it fails to convince the jury that Ibori conspired with Christine and Udoamaka to steal Delta funds, then it would have lost the foundation of its entire case against the politician, who it got extradited from Dubai in April this year.
Count 1 reads: "Conspiracy to Defraud, Contrary to Common Law
"PARTICULARS OF OFFENCE
"James Onanefe Ibori between the 1st day of June 1999 and the 29th day of May 2007 conspired together with Christine Omatie Ibori-Ibie, Udoamaka Onuigbo (also known as Okoronkwo) and others to defraud the Delta State Government, Nigeria, by dishonestly, among other matters:
(i) being a party to an inflated price fraud in respect of the contract for the building of a sports track for the Delta State Government at the Oghara Stadium;
(ii) being a party to the provision of an inflated invoice fraud in respect of the supply of vehicles to the Delta State Government;
(iii) diverting cash from the Delta State Treasury to his personal benefit; and
(iv) continuing to run and profit from, undeclared, businesses including known as MER Engineering Ltd and Koln Ltd."
At the last pretrial hearing before new judge Geoffrey Rivlin, THEWILL was told prosecution also removed all money laundering indictments against Ibori in the Vee Networks (Nigeria) Limited matter and opted to prosecute him separately in another trial in order not to throw all its eggs in one basket.
In a new strategy, prosecution has rolled out new indictments preferring to prosecute jointly Ibori and Elias Nimho Preko, a former Ibori financial adviser.
The new indictment in the matter between The Queen vs. James Onanefe Ibori and Elias Nimho Preko which still has count 1 that prosecution desperately seeks to expunge has only 14 counts.
The next pretrial hearing has been fixed for December 05, 2011.
Stay tuned. To be continued tomorrow…