House Query National Planning Commission Over $6.6B Civil Society Budget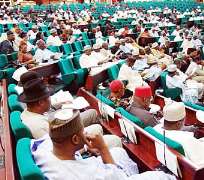 ABUJA, November 28, (THEWILL) - The House of Representatives Monday demanded explanation from the National Planning Commission (NPC) asking the agency to account for $6.6 billion earmarked for it in the 2007 budget for the operations of the non-governmental organizations (NGO's) as well as Civil Society Organisations (CSO's).
The House also queried the commission over the continued practice whereby international non-governmental organisations enter the country with diplomatic status that gives them access to federal government facilities such as vehicles and offices which is in contradiction of the extant laws.
Chairman of the House committee on civil society and donor agencies, Hon. Eseme Eyiboh who made this observations at an interactive session of the House with the non-governmental organisations, community based organisations and civil societies today in Abuja also charged the NPC to ensure that local NGO's are able to access funds made available by the multilateral organizations.
Eyiboh therefore directed the Corporate Affairs Commission (CAC) as well as the NPC to synergise its operations to ensure that a data base bank is created and sustained such that information about both international and local NGO's can be assessed.
But reacting to the allegations by the committee, representative of the Executive Secretary of NPC, Mr. Chris Ezeilo told the committee that the Commission has commenced the process of reviewing the operations of all the donor agencies operating in Nigeria by creating a data base.
However, Ezeilo, who is a director at NPC, could not satisfactory answer to the committee on how it spent the alleged $6.6billion it got in 2007 budget.
The director said it has also resolved that every foreign NGO which intends to operate in Nigeria is registered and made to operate in line with the direction and vision of the country, stressing that so far about 151 international and local NGO's have been registered.
On why there was a budgetary provision for the procurement of mosquito nettings, yet the commission as regulator of NGO's went ahead to allow the global fund to also make provision and provide monies for the same project, the director said, "the ministry of health will be in a better position to answer that question on budgetary provisions because they were more directly involved."
Also speaking, the deputy director Incorporated Trustees of the Corporate Affairs Commission (CAC), Mrs. Akalomu Gertrude Uzochikwa told the committee that the Commission has observed that most of the organisations get a lot of donations yet they cannot account for such donations in terms of application.
About 37 civil societies and NGO's both local and international were invited by the committee to the interactive session.