STAR ACTRESS EMPRESS NJAMAH BLACKBERRY-CRAZED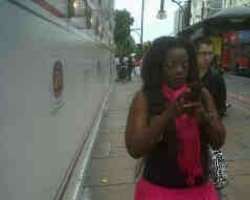 Na true talk say education does not cure ignorance, it only suppress it.
Star actress, Empress Njamah was spotted in london on her way to primark a few months back.
The actress was so engrossed with her blackberry phone that she didn't notice when an onlooker fan took pictures of her.
Na dis kain act Faze call kolomental.