POOR FUNDING ROBBED US OF SUCCESS – KADUNA UTD'S TM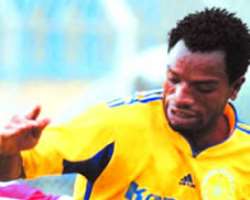 Aneke of Kaduna Utd
Team Manager of Kaduna United, who doubles as the Special Assistant to the Kaduna State Government on Road Projects, Hon. Mustapha Zukogi, has hinted that insufficient funds was the cause of the team's inability to perform up to the expectation of fans of the club last season.
Hon. Zukogi told Sunday Sunsports in a telephone interview on Friday that Kaduna United would have done far better last season both at the local and continental scenes if enough funds were made available to the team to prosecute its assignments.
He further complained that football clubs in northern Nigeria do not enjoy proper funding like their counterparts from the southern part of the country, adding that had it been that half of the money that was made available to clubs like Sunshine Stars, Dolphins, Sharks, Bayelsa United and others was made available to Kaduna United last season, the team would have done better.
To buttress his point, he revealed that Kaduna United players and their officials played for nine months last season without receiving any salary and yet, the team concluded the season on the 8th position in the Nigeria Premier League and crashed out only at the semi-final stage of CAF Confederation Cup.
'You may say that we disappointed our numerous fans and supporter by not measuring up to their expectations, but I must say that we did our best under the circumstances we found ourselves last football season,' Hon. Zukogi said.
'Kaduna United would have done far better than it did last season had it been that we had enough money to run the club. So, as far as I am concerned, we did our best despite the mess of lack of funds.
'Meanwhile, I must tell you that northern clubs are not funded like their southern counterparts. I want to place it on record that had it been we received at least half of the funds clubs like Sunshine Stars, Dolphins, Sharks, Ocean Boys and the rest from the south received from their financiers last season, Kaduna United would have won the league and probably, lift the CAF Confederation Cup.'
He continued: 'Do you know that the situation was so bad that we played for nine whole months without salary and yet we were able to place eight on the league table at the end of the season? So, it wasn't the fault of the club that we did not measure up to expectations last season.