House Begins Probe Of Donor Agencies, Funds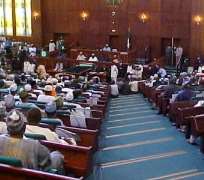 ABUJA, November 24, (THEWILL) - The House of Representatives Thursday directed its standing committee on Donor Agencies to critically examine all grants, donations and relief materials received from Donor Agencies.
The committee is to also find out the implications and implementation level of donor funds with a view to identifying if such funds are deployed in accordance with International best practices and provisions of extant laws and agreements.
The committee is to also articulate an effective, strategic and accountable manner on how this assistance could compliment government efforts and National Security and report back within four weeks.
The motion to probe donor agencies came on the heels of a motion moved by the chairman of the House committee on Donor Agencies, Hon. Eseme Eyiboh, who expressed concerns that donor agencies deal directly with ministries and state commissioners without consultations with the National Planning Commission which is the coordinating organ of all donors and grant projects in Nigeria.
According to the mover of the motion "it is with dissatisfactions that annually, huge sums of monies are voted as grants and disbursed by donor agencies to tackle development challenges confronting Nigeria as a nation but regrettable the grants are not synchronized with government's budgetary projection and development.
"A lot of donor funds supposedly given for the benefit of Nigerians, are duplicating, complementing or even distorting government's budgetary projections and are often times used without adequate legislative oversight.
"The donor funds do not impact on the grassroot development programme, and is against the spirit of the Paris Declaration on Aides Effectiveness and Accra Agenda for Action which stipulates that recipient countries of foreign aides should be the driver of the process design and implementation."
The motion was titled, "need to monitor and harmonize the receipt of Aids and Grants from Donor Agencies by Non-Governmental Organization."